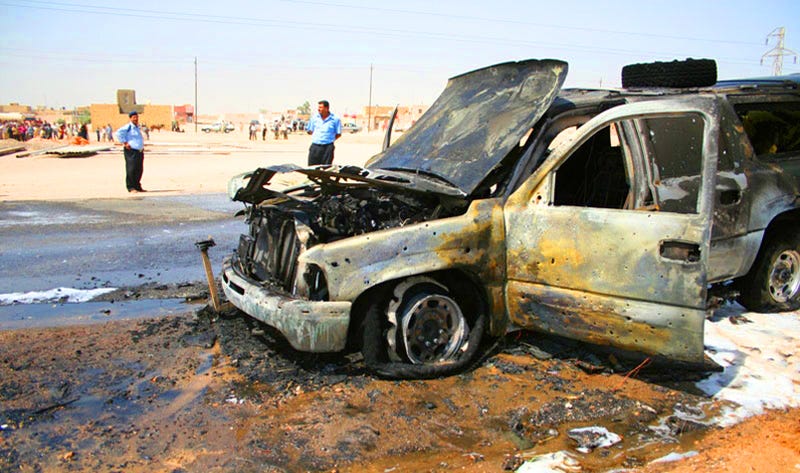 Tire-popping tacks, electric-shock handles, smoke screens and bullet-resistant glass are typically the realm of James Bond films, but we visited a Texas company building pedestrian-looking cars capable of withstanding snipers and IEDs. To prove it they brought out an AK-47.
It's a dangerous world out there and Texas Armoring Corporation has been working for three decades to provide customers all the luxuries of a modern car with all the protection of a bank vault. Whether you want an up-armored Cadillac Escalade or a Bentley Flying Spur capable of withstanding a land mine blast, they'll customize your vehicle to your standards while maintaining the basic appearance and functions of the car.
The trick to taking a pedestrian vehicle like an E63 AMG Mercedes and turning it into an armored vehicle without sacrificing performance and usability is the use of hi-tech materials. The one we looked at is getting a B4 level of armor, which means it can take all normal handgun fire as well as a shot from a .30 caliber carbine or a 12-gauge shotgun slug.
For the transformation they've completely disassembled the interior, ripped out the carpet and seats, and lined the car with a material called Spectra Shield, which is a laminated composite material ten times stronger than steel but light-weight and easy to shape for spaces like door pillars and roofs where added weight could affect vehicle performance. Ballistic steel and kevlar sheeting also provide protection in certain areas. The windows use a densely layered ballistic glass with a "spall shield" inside that prevents shattering.
How well does it work? As you'll see in the video, the folks at TAC were kind enough to provide an AK-47 to test out the different materials. The ballistic steel takes a round from a few feet away as if it's almost nothing, leaving not much more than a small mark and the piece of steel loaded into the "shooting box." The Spectra Shield reacts in a completely different way, dispersing the energy through the laminated layers, leaving a big indention in the material but allowing no penetration.