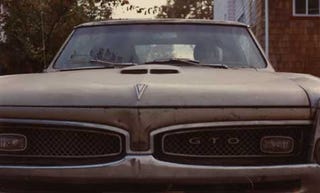 I'm guessing that a respectable percentage of you have owned at least one Pontiac (you foreign types with your Polski Fiats and Proton Sagas can sit this one out). What was the first one?
All this is inspired, of course, by my personal Pontiac history, as related in one of my very first Jalopnik posts. In addition to scoring the world's most heinous- but running- '67 GTO at age 17, I spent a great deal of time attempting to get the keys to my dad's plush '81 Bonneville, for those occasions on which the young ladies refused to go anywhere with me in what they referred to as "that piece of shit" (i.e., 100% of the time). Because of my history with those two flawed-but-loved Pontiacs, I'm feeling the pain of Pontiac's demise much more deeply than I did with Oldsmobile or Plymouth.

Now it's your turn. We already know which Pontiacs you found most pants-swellingly exciting, but what was your first one? Maybe not the first one you owned, but the first one you cared about. If it was an Astre or even (shudder) a Phoenix, that's OK! And here's the complete text of my original $113 GTO post, for those of you too lazy to go check it out.