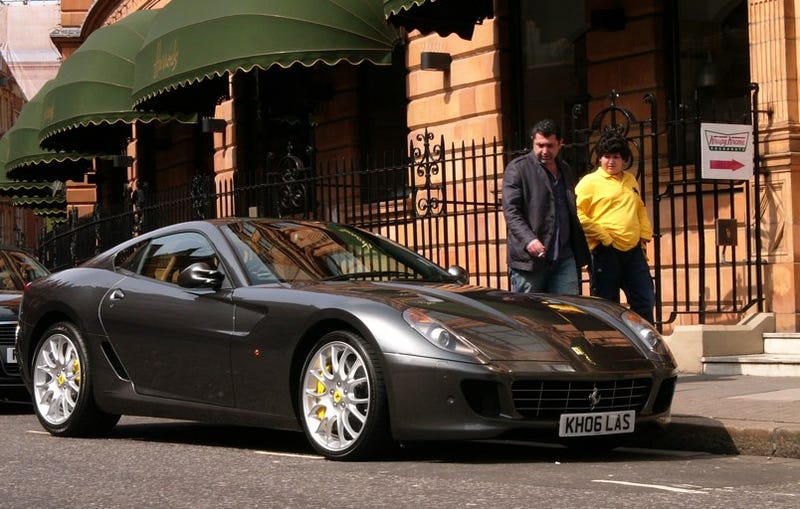 You don't necessarily have to consign yourself to minivan hell when you have kids. Lamborghinis and Ferraris make for lovely ways to transport a growing family. Here's how.
On a lovely autumn day in 2006, I folded myself out of the back seat of my friend Larry's Lamborghini Espada and had a revelation: I have just found the perfect family car.
Orosz, get your head out of the mushrooms, you might be thinking, the Espada is a 40-year-old Italian rustbucket, but see, it all makes sense. The car is Marcello Gandini's trickiest design—the svelte coupé profile obscures two flawless, roomy back seats, either of which will accommodate my 6'2" frame with ease. Fitting a child seat in there would be a walk in the park.
The Espada also makes a very pleasing noise, is not very expensive at around $40,000 for a driveable example and most importantly, it comes with a cubic mile of style. Based on my rudimentary knowledge of developmental neurophysiology, a child exposed to such a stylish means of transport in her formative years will develop impeccable taste. And a sense for the benefit of extreme speeds.
To test my theory, I went for a stroll in Knightsbridge, London's perhaps poshest neighborhood. Specifically, the streets around the famous department store Harrods, where the local ultra-rich do their weekend shopping.
Ferrari 456
The first car I ran into that fit the bill was a midnight blue Ferrari 456. This is very similar to the Espada in that there is a V12 up front, two doors on the sides and four seats on the inside. Ferrari introduced it in 1992 as the replacement for that eyesore 400 and made around 3000 of them until the 612 Scaglietti took the stage as Ferrari's resident leviathan.