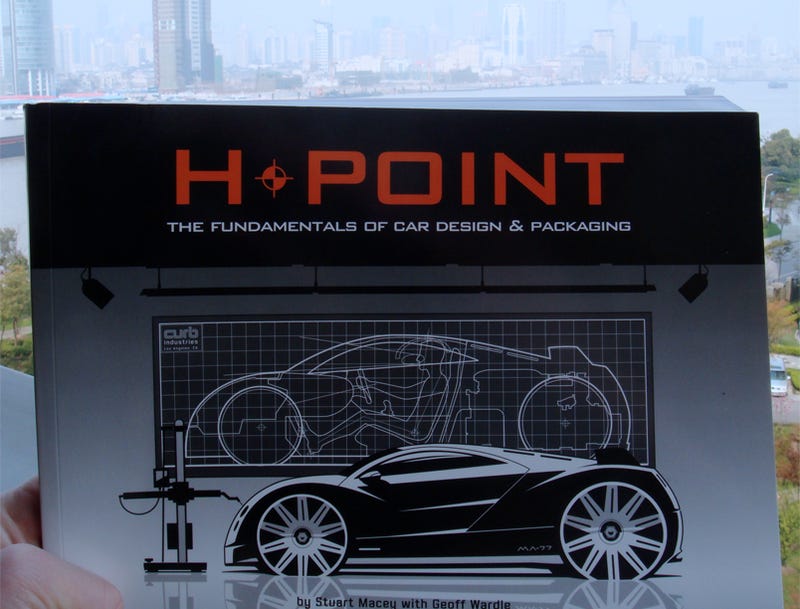 If you're an aspiring car designer or just an automotive technical buff, have I got a cool illustrated engineering bible for you. This oil and water-like combo goes together better than you'd expect.
I was contacted by Curb Industries about their latest book release titled, "H Point: The Fundamentals Of Car Design & Packaging." I thought to myself; "Great, a book about engineering, how interesting could this really be?"
I received a package via USPS a few days later and honestly, didn't get around to opening it for a day or so. I knew what it was. What the heck did I just get into? Eventually opening the terrorist-proof package, I found a brand new copy of the book waiting deep within. Pulling it free from the clutches of the manila and bubble-wrapped packaging I noticed the slick sports car sketch that adorned its otherwise unassuming cover and thought that this could only be a ninja-like ploy to draw an unknowing potential customer into the engineering death pit that sits between the covers.
Then I noticed the cool little car illustrations inside (reminding me of doodles I had drawn in the margins of my high school term papers) and the foreword written by Ralph Gilles; VP of Design, Chrysler and Freeman Thomas; Design Director, Ford Advanced Design. They're both design guys; what the heck are they doing here? Like oil and water, designers and engineers just don't mix. Taking this into consideration, I decided to sit down with H Point on my favorite white reading chair and flip through a few of its thick, glossy pages. It didn't take long. I was sold.
The introduction baby steps the curious reader through the historical story of vehicle architecture from the creation of the first wheel in Mesopotamia in 4000BC, the art and science of the 1922 Bugatti Type 35, the passenger priority of the 1959 BMC Mini, the triple XL 1992 AM General Hummer H1 and finally on to the future of urban mobility, emerging neighborhood electric cars like the Jalopnik Mobile Command GEM E4.