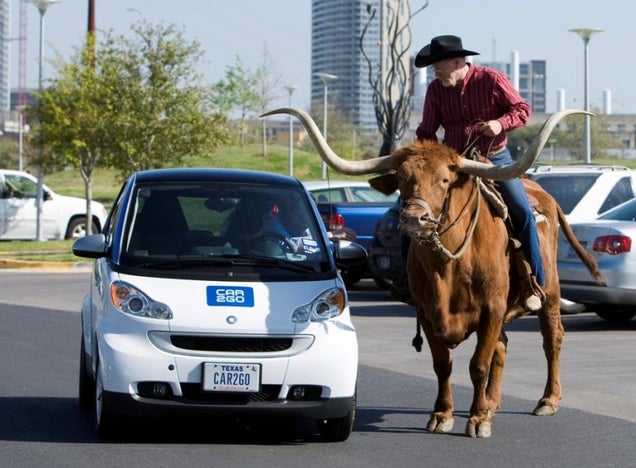 S
Daimler has announced plans for a short term rental program hitting Austin, Texas in the fall called car2go. Users will get street-side or reservation access to parked Smart ForTwos.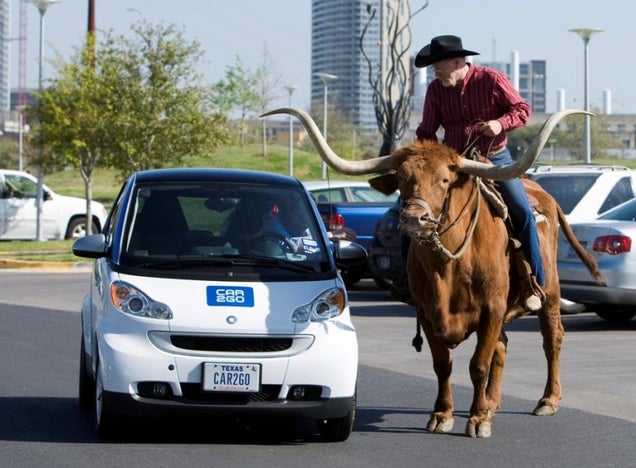 S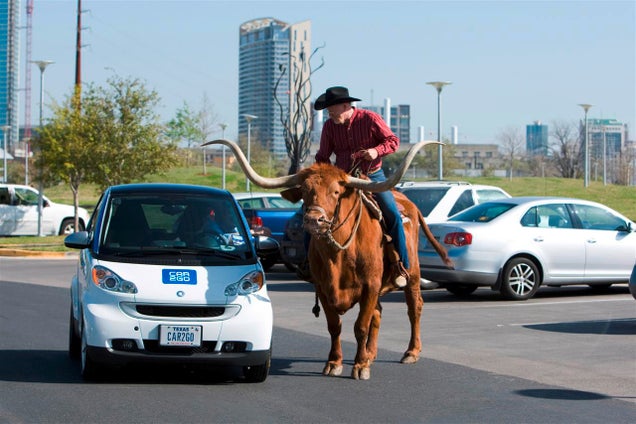 S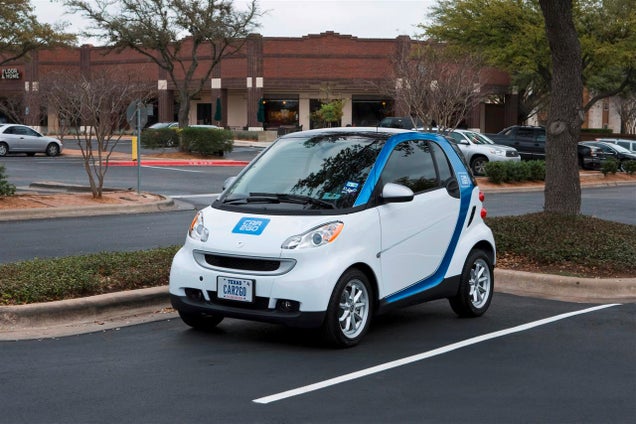 S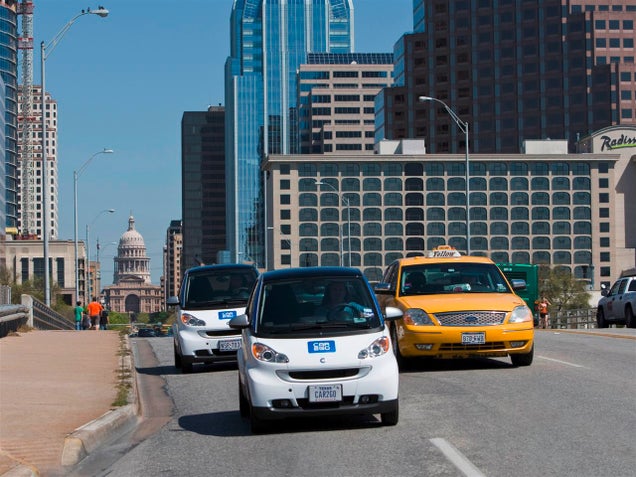 S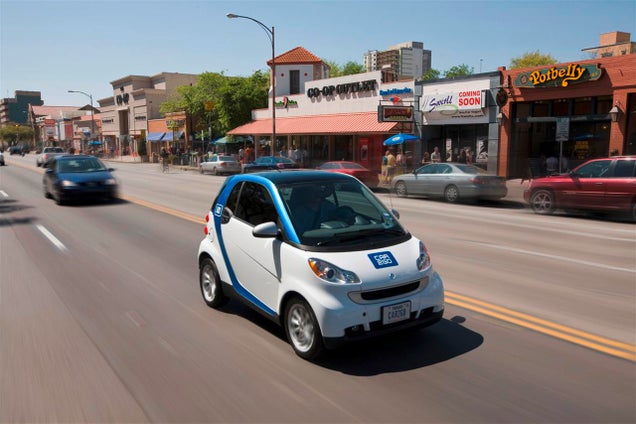 S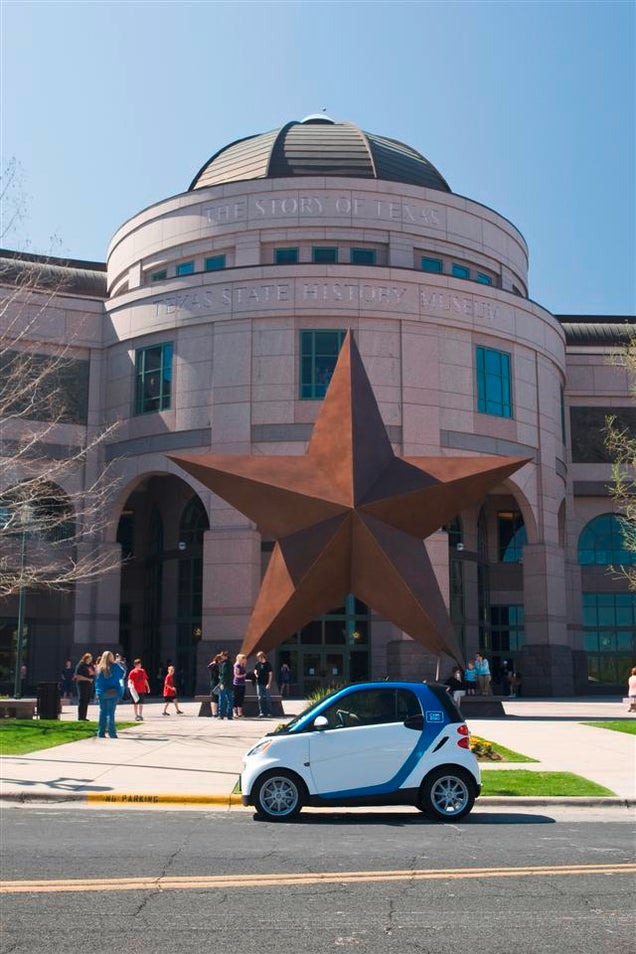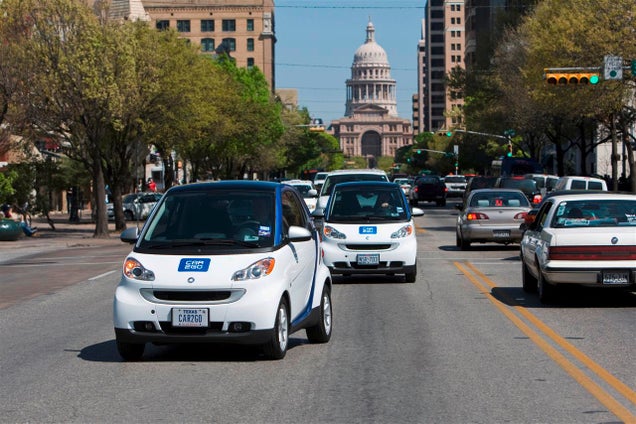 S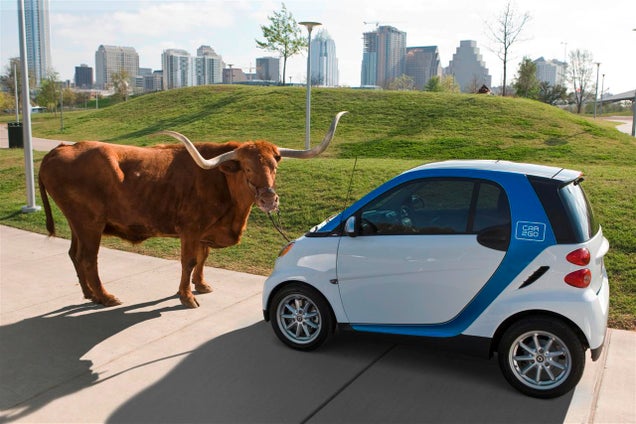 S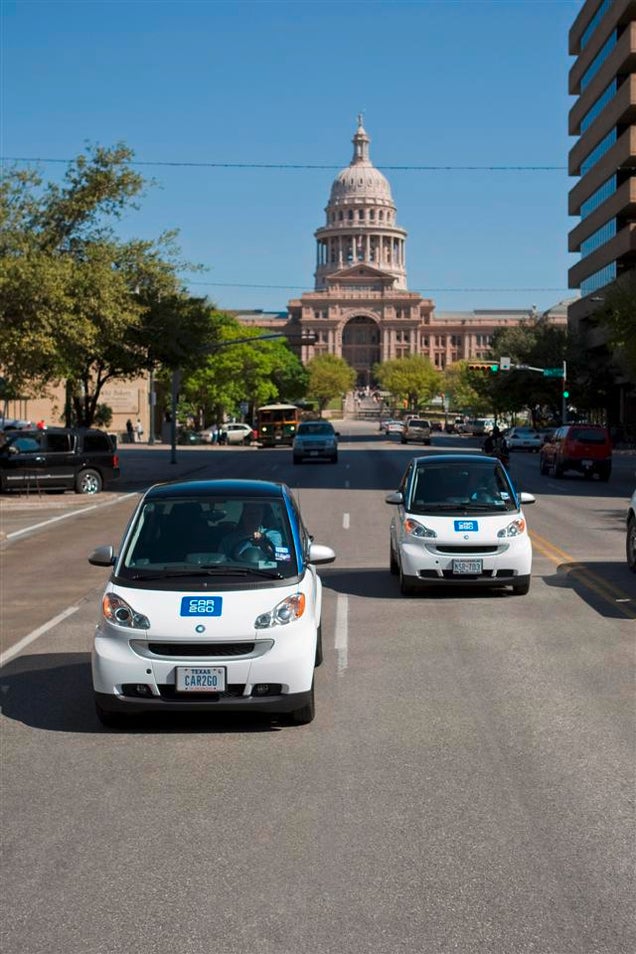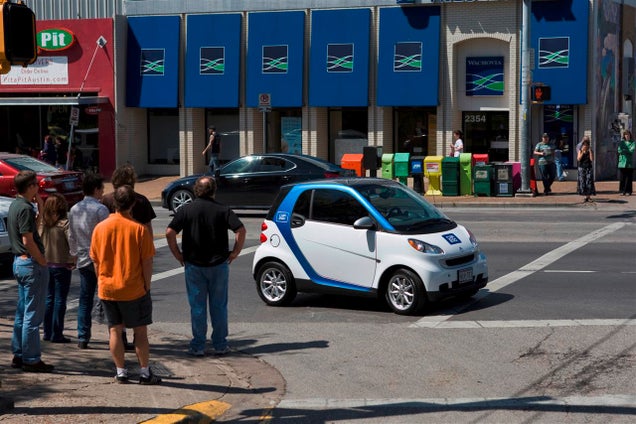 S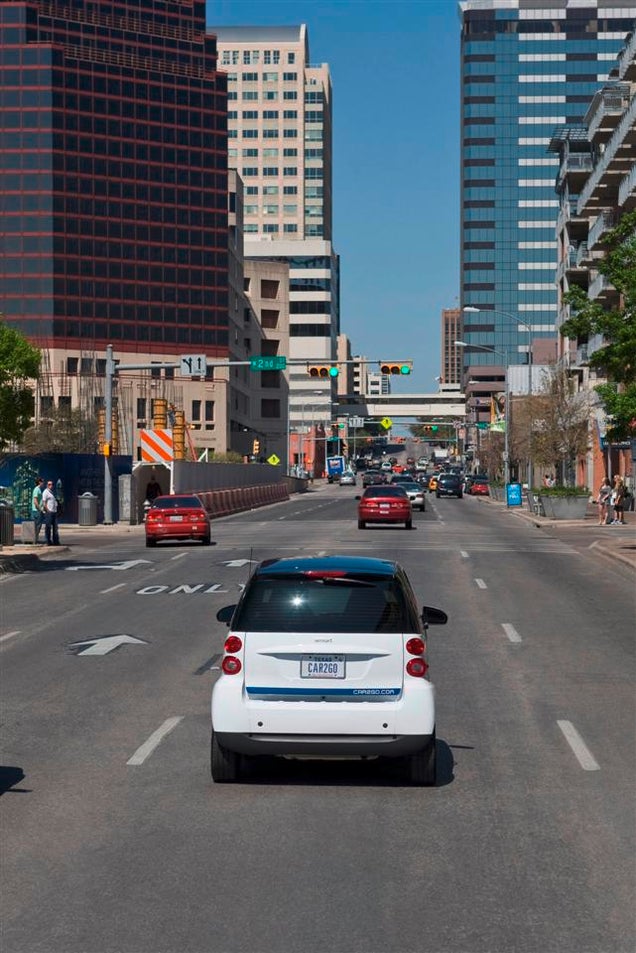 S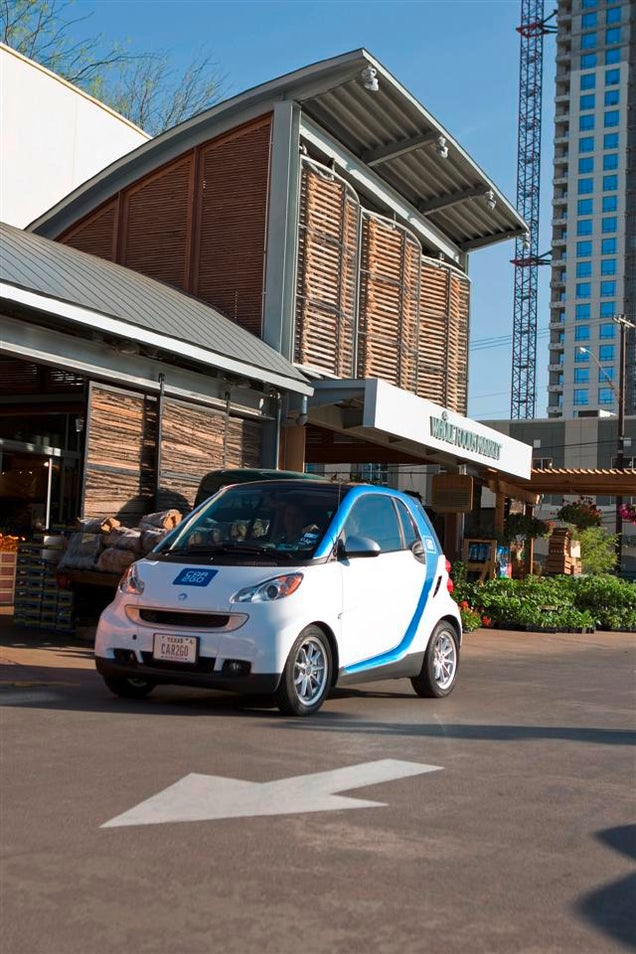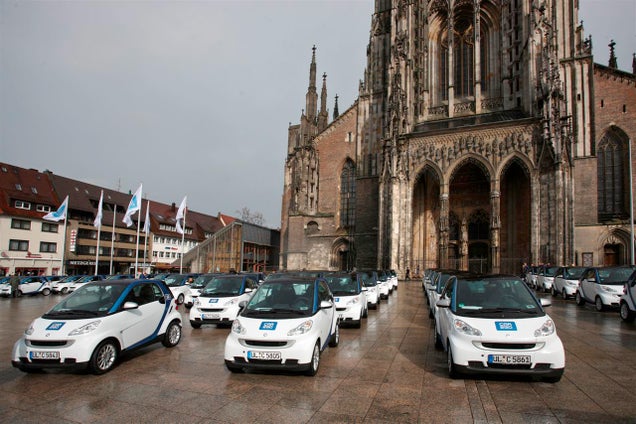 S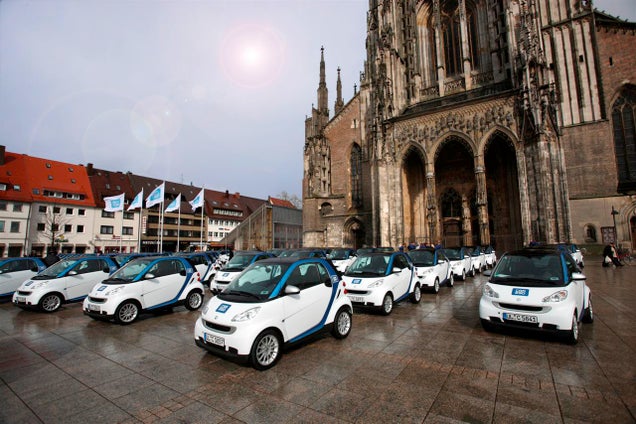 S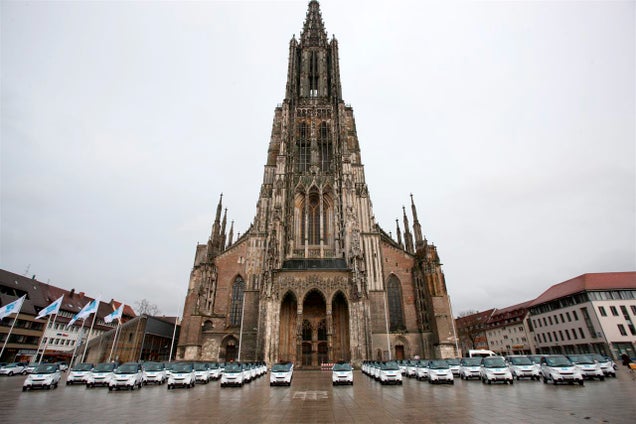 S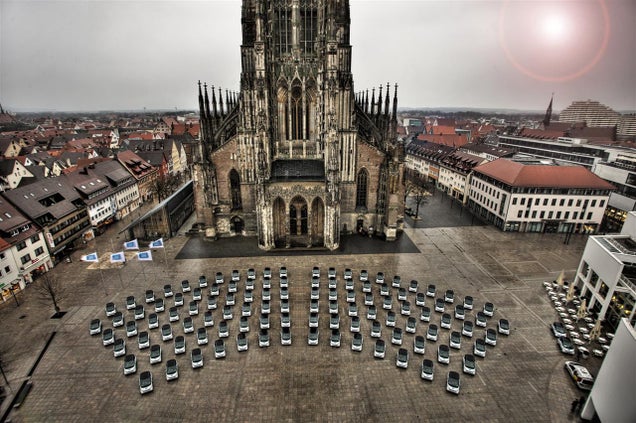 S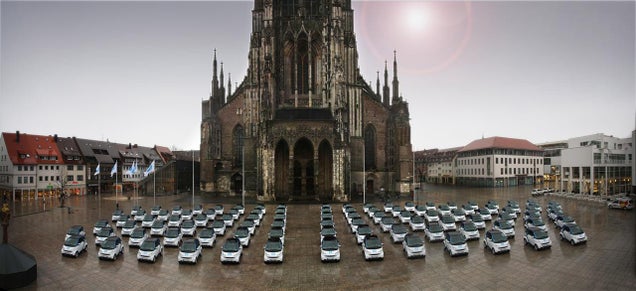 S

The system would work much like any other easy access rental enterprise such as Zipcar or the new Hertz Connect subscribers would have a one time registration fee and pay on a per minute, per hour, or per day basis for access to a Smart ForTwo. Cars can be picked up from a parking lot or random parking space without reservation or users can reserve a car by their cell phone or the internet. Rates in Ulm, Germany, where the program will launch first, start at 19 Euro cents a minute, 9.90 Euro an hour, and 49 Euro a day.
In the fall, the car2go service will launch in Austin, Texas. And, as you can see, apparently you'll be followed around by a longhorn cow while driving anywhere. Full press release below.
car2go for all: 200 good reasons for rediscovering city driving
*Ulm drives smart by the minute: from now on innovative mobility concept available to the public and on a 24/7 basis
*Enlarged: rental car fleet with 200 smart fortwo cdi
*Internationalization: car2go starts in Austin, Texas, in the fall

Stuttgart / Ulm – Good reasons for rediscovering city driving can now be found literally on every corner in Ulm. Daimler AG sees to it with car2go – its new mobility concept that makes driving a car as easy as using a mobile phone. Following the successful completion of the internal pilot phase, car2go with a fleet of 200 smart fortwo cdi is available from now on to all registered residents and visitors to Ulm – every day, around the clock, and at low rates. From Ulm, car2go goes straight to the international level, to the USA: Daimler plans to launch car2go in Austin, Texas, this autumn. "The very promising results of the first, internal pilot phase in Ulm show that with car2go we have found another answer to current and future mobility needs in metropolitan areas. Our project in Austin is the next logical step," says Dr. Thomas Weber, member of the Board of Management of Daimler AG responsible for Group Research and Mercedes-Benz Cars Development.

With car2go, on 24 October 2008 in Ulm Daimler AG kicked off a pilot project for a new, flexible and environmentally compatible form of mobility concept of the city. car2go is another important element of the Daimler strategy on the road to sustainable mobility.

The principle is as simple as can be: whenever a car is needed, it can be rented spontaneously in passing out on the street, or it can be pre-booked via mobile phone or internet. The car then can be used as long as one likes, and can be returned to any unoccupied public parking space within the area of operation. The cost structure is clear and the use is simple: the 19 euro cents charged per minute covers taxes, insurance, mileage and even fuel. There are low rates for rental by the hour or day: 9.90 euros per hour or 49 euros per day. Sole condition for use is one-time free registration as a customer and a valid driver's license, to which a small seal is affixed. Once a person registers, he or she can open any car2go by means of a card reader placed behind the windshield.

From inside to outside

In the first pilot phase that began last October with 50 smart fortwo, some 500 employees of the Daimler Research Center in Ulm, plus 200 family members, participated as test drivers. The aim was to test the technical systems and gather initial experience with acceptance, user behavior, and effort for service in practical operation.

Robert Henrich, responsible project manager at Daimler AG, sums up: "The success of the first pilot phase surprised even us and shows how much importance already is attached to forward-looking mobility concepts today. In just two weeks more than 500 customers had registered with car2go – a number we had not anticipated. Sometimes I could see from my office window how employees sprinted to the parking lot after work to get a car2go before they were all gone." Their enthusiasm and the interest of the people of Ulm persist. In peak periods the entire fleet of 50 smart fortwo was being used to full capacity and could have been greatly expanded based on the user demand. Since the start, 8,000 rentals have been registered, and per day as many as eight customers have used one and the same vehicle.

Without exception user feedback was positive, and users were surprised how easy the system works in practice. The per-minute charging also was felt to be very customer-friendly. Moreover, from the beginning the project met with national and international interest. In the meantime numerous inquiries have been received from cities all over the world that also would like to offer car2go to their residents.

As intermediate step, in February the clientele was extended to include the employees of the Mercedes-Benz sales and service outlet Ulm/Neu-Ulm and the local Daimler subsidiary EvoBus. In line with this the number of car2go vehicles was raised to 100. This increased the overall number of car2go users to more than 1,000. The successful start has encouraged all parties to take the next step: today begins the public testing phase in Ulm, in which car2go is available to all 120,000 residents and people visiting the city. For this purpose the car2go fleet is being doubled to 200 vehicles.
"From the outset we saw car2go as an absolute enrichment and a great opportunity for the science city Ulm. The city profits tremendously from the public interest in car2go, and we hope to reduce the traffic load especially in the downtown streets and parking areas," says Ulm's mayor Ivo Gönner.

Everybody interested can immediately register in the internet at www.car2go.com or at the registration office in the Ulm city hall, right next door to Ulm cathedral. Here they also get the car2go seal for their driver's license.
Internationalization – from Ulm to Austin

The pilot project in the southern German city of Ulm will not be the only one – from the start the concept was planned for international use. Whereas in Ulm the purpose is to test the general acceptance of the concept and stabilize the technical systems, the second pilot project is designed to generate know-how for the international use of car2go. The demands include applicability to other cities, language regions and mobility trends as well as adaptation of the business processes to the legal requirements in other countries.

Jérome Guillen, director of the Business Innovation department at Daimler that developed the car2go concept comments: "We deliberately chose a large American city. In the USA the car sharing market has the highest growth rates in the world. For this reason we see very good chances of success there for car2go, especially because car2go offers many advantages over the known car sharing offers." For instance, car2go is distinguished by free availability of the vehicles in the city area without obligation to use certain parking spaces, on-the-spot rental for as long as one likes, as well as a simple and clear price structure.

The capital of Texas with its 750,000 residents is appreciably bigger than Ulm and is distinguished by its open-mindedness and its very involved citizens. "We very much look forward to becoming the first international partner of car2go," says mayor Will Wynn. "Our city is known for its strong sense of environmental responsibility. car2go fits this wonderfully because we can then offer the residents of Austin an intelligent mobility concept with a high positive environmental factor. The project has our full support."

As in the first phase of the German pilot project, car2go will begin in Austin with a defined group of users, for example city employees. It is then planned to make car2go accessible to the public in Austin in a second step.
Other factors predestining Austin to be the first international car2go city are the city's size and its up-to-date economic structure. Among other things it is the location of the fourth largest university in the USA. Beginning in autumn 2009 a fleet expected to number 200 smart fortwo mhd vehicles with automatic start/stop function will be put into operation there.
[Daimler]