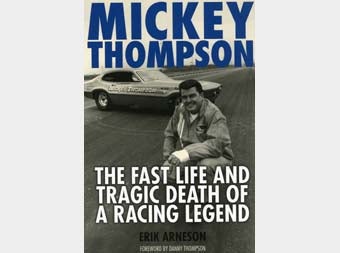 If you're one of those weirdo intellectual gearheads who reads books, we're not going to give you the swirly-and-stolen-lunch-money treatment you probably deserve. No, we're going to indulge your shameful habit!
That's right, Jalopnik Book Reviews are in the house, and I'll do my best to make this a regular weekend feature. If it's printed and has something to do with cars, we might be reviewing it here- shop manuals to NASCAR romance novels!


We're going to start off this series with a book about a subject that had damn well better be dear to the hearts of all our readers: Mickey Thompson. Thompson's 1964 memoir, Challenger, should be considered a 27-alarm must-read (well worth the crazy high price tag for a used copy; that's my read-50-times thrift-store copy on the left), with its accounts of the 1953 and 1954 Carrera Panamerica races alone being worth the cost. However, Challenger was written only halfway through MT's career, and he was too sharp a businessman not to make his memoir a masterpiece of promotional spin for his various endeavors. Especially maddening is the lack of detail concerning Thompson's revolutionary Indy 500 cars, which were still works-in-progress during the writing of Challenger.

Erik Arneson's Mickey Thompson: The Fast Life And Tragic Death Of A Racing Legend tells the whole MT story, from his early days of salt-flat madness and drag racing innovation, through the speed-parts and indoor off-road-racing businesses, to his murder and 20-year pursuit of the former business partner who was convicted of the hit in 2007.