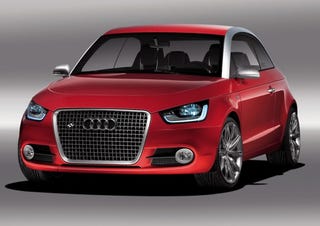 2008 was a record year for Audi, but unlike the not-so-Big Three, they were positive records. Audi produced more vehicles and more profits than ever before. So much so, they're paying employees $6,775 bonuses.
The Audi Group produced 1,003,469 vehicles for the 2008 calendar year, 4.1% more than 2007. Total profits after tax was $3.5 Billion, an increase of 30.4 percent.
While sales were down 6.1% in the US (to 87,760 vehicles) numbers were up in Audi's biggest market, China, by 17% (119,598 vehicles, as well as by small percentages in Europe.)
While other automakers cut staffing costs, Audi is paying each and every worker a $6,775 bonus and looking to invest even more by expanding its engineering staff. It hopes that this "counter-cyclical" approach will result in a stronger, more knowledgeable workforce and better products.
Speaking of products, Audi's claiming it'll have 12 all-new models on the way in the next seven years, taking Audi's total international model range to 40 vehicles with next year's big launch the 2010 Audi A1 premium compact car. Audi also plans to further invest in "clean Diesel" technology.