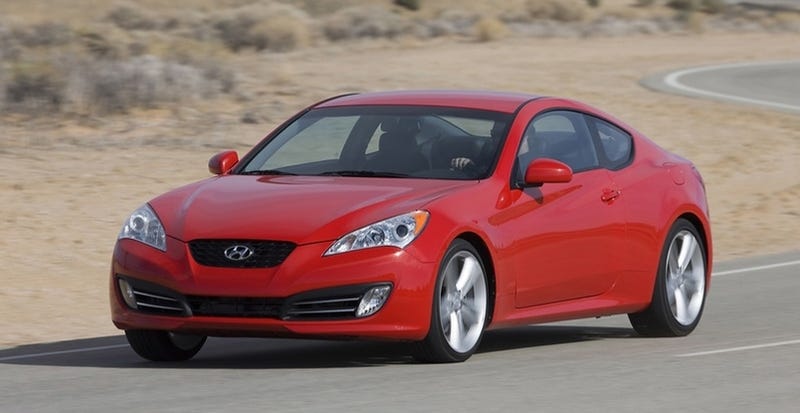 The Hyundai Genesis Coupe base model 2.0 turbo with a manual starts at just $22,000 the company just announced here at the 2009 Chicago Auto Show. The 300 HP V6 model starts at just $25,000.
A pleasingly low $22k buys you the 210 HP turbocharged inline four Genesis Coupe and the 300 HP 3.8 liter V6 equipped with a proper six speed transmission is only $25,000. Pinch us. Of course, prices for both go up from there, but we're talking bona fide bargain here. The last time horsepower was this cheap was back in the days of the LS1-powered Chevy Camaro.
If you want to break the bank, you can go for a fully-loaded, V6-equipped track model with the shiftronic 6-speed transmission for $31,000... but why would you when you could have the manual for less? Full details in the press release below .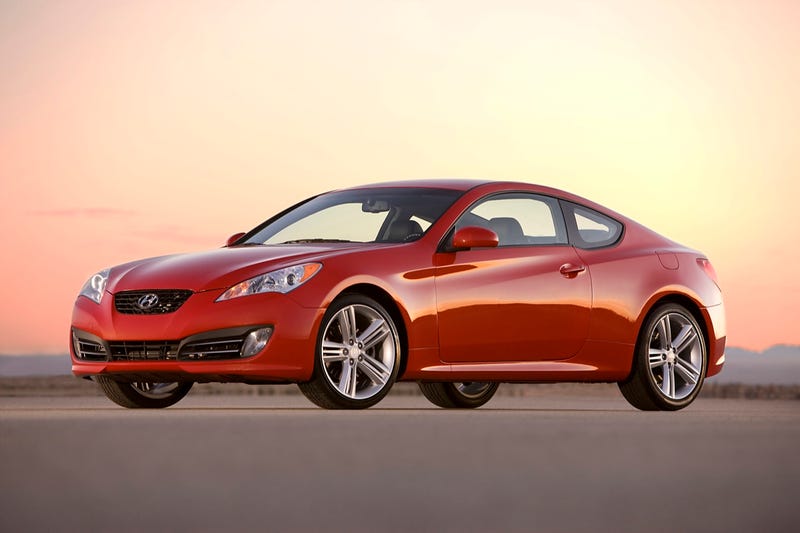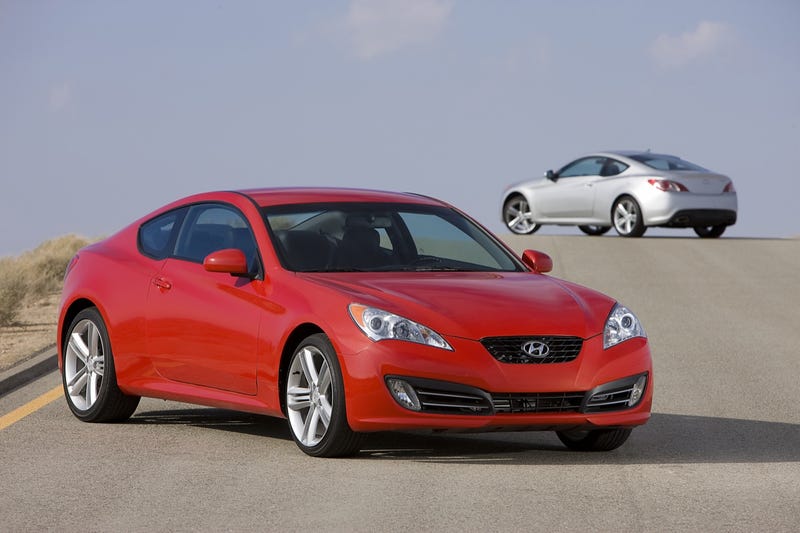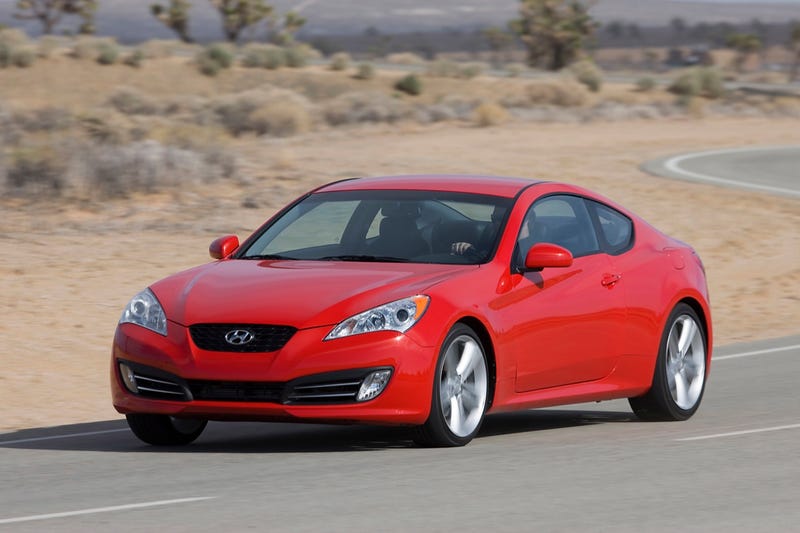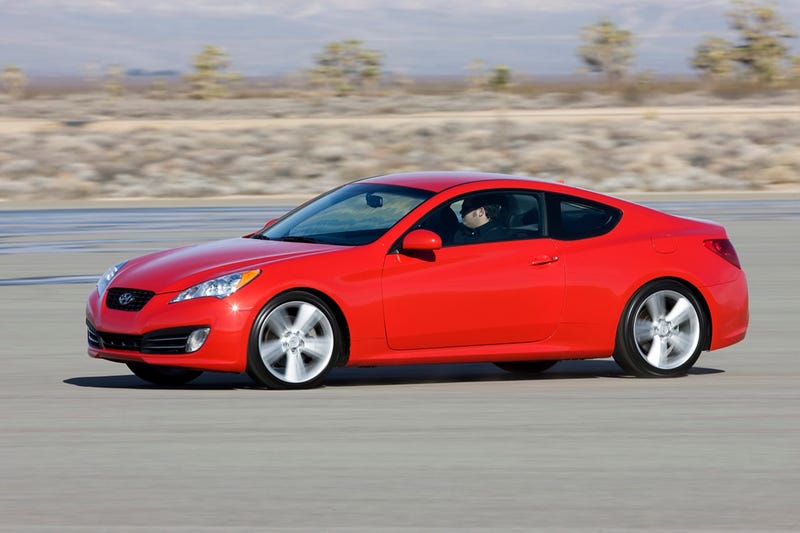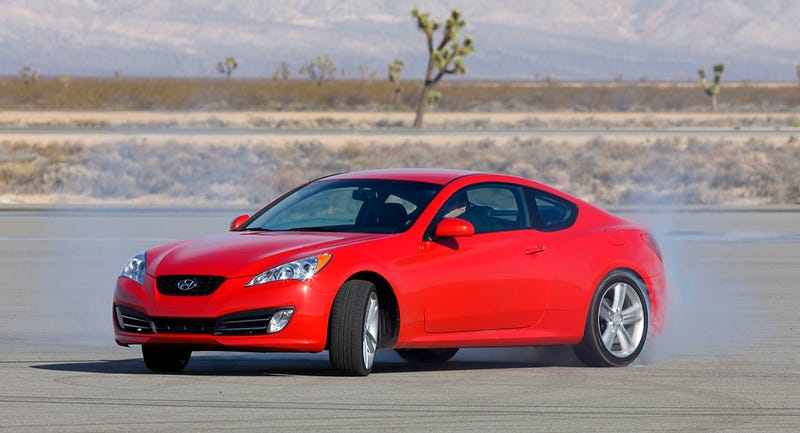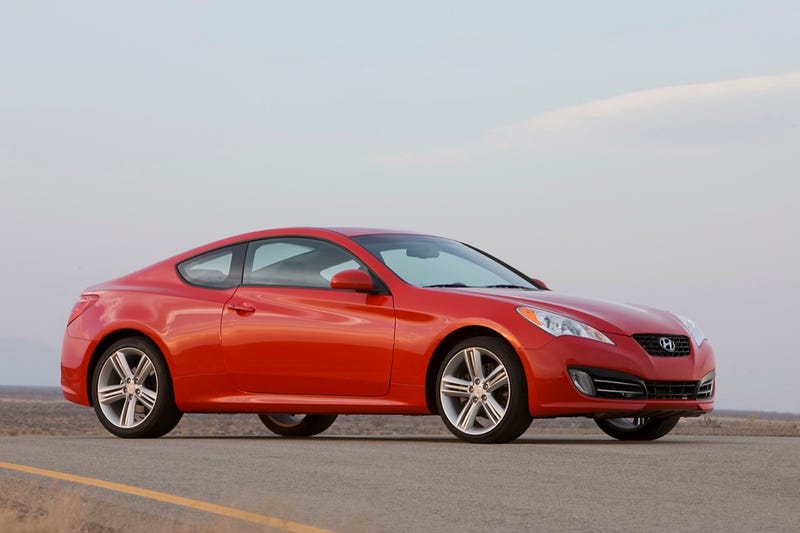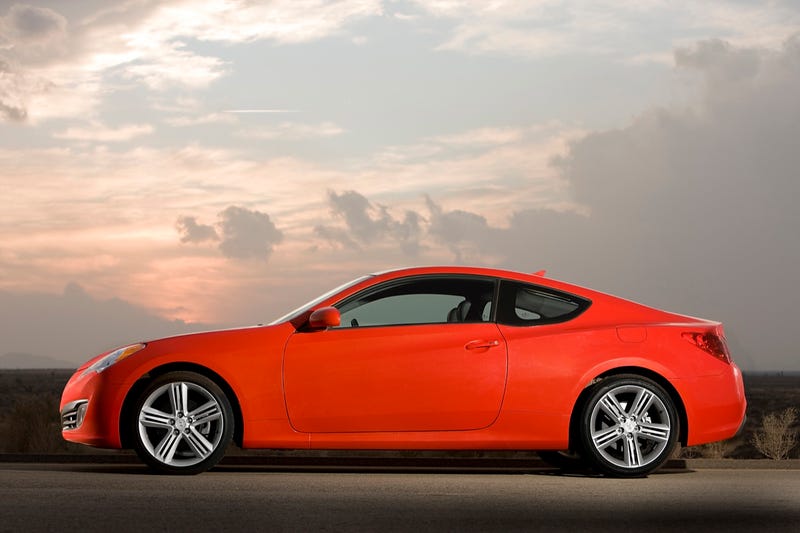 HYUNDAI ANNOUNCES 2010 GENESIS COUPE PRICING

CHICAGO, Feb. 11, 2009 – Hyundai Motor America announced pricing for the new Genesis Coupe, starting at $22,000 for a well-equipped 210-horsepower, 2.0-liter, turbocharged, four-cylinder engine 2.0T model and $25,000 for the 306-horsepower, 3.8-liter, V6 engine model. Genesis Coupe will begin arriving at Hyundai dealerships later in the month.
"Genesis sedan set a new benchmark for the premium sedan segment and we think Genesis Coupe will do the same in the sport coupe arena," said John Krafcik, Hyundai Motor America president and chief executive officer. "From our 30-mpg 2.0T with its low-pressure, intercooled, four-cylinder turbo, to the 3.8-liter Track model with 306 horsepower and Brembo® braking system, Genesis Coupe offers a wide range of powertrain and performance choices for driving enthusiasts of all stripes."


Genesis Coupe 2.0T: A more efficient take on the rEAR-Wheel drive sport coupe
Standard equipment includes:
2.0-liter, low-pressure, turbocharged, intercooled 4-cylinder engine with dual continuously variable valve timing delivering 210 hp, 223 lb.-ft. of torque (at just 2,000 rpm), an estimated 30 mpg EPA highway rating and a top speed of 137 mph
M6VR1 6-speed manual transmission (Optional: A5SR1 5-speed electronic automatic transmission with lockup torque converter and steering wheel-mounted paddle-shift Shiftronic® controls)
18-inch Euroflange alloy wheels with staggered Bridgestone Potenza RE92A tires (225/45VR18 front, 245/45VR18 rear)
Electronic Stability Control with Traction control, ABS, Electronic Brake Force Distribution and Brake Assist
12.6-inch ventilated front rotors with 60mm single piston floating caliper
12.4-inch solid rear rotors with 43mm single piston floating caliper
Sport-tuned MacPherson strut dual-link front suspension and five-link rear independent suspension, 24mm front stabilizer bar, 19mm rear stabilizer bar
Front strut brace
Quick-ratio hydraulic steering (2.7 turns lock-to-lock)
Tire Pressure Monitoring System
Front, side, side air curtain air bags
Active front head restraints
Driver's lumbar support
Black-out front lower fascia
Air conditioning
Satin silver and chrome interior accents
Remote keyless entry system with alarm
Leather-wrapped steering wheel and shift knob
Power windows (one-touch up and down), door locks and mirrors
AM/FM/XM/MP3/CD audio system with six speakers
iPod/ USB Aux jack connectivity
Steering wheel audio controls
Cruise control
Trip computer
Projector beam headlamps with auto light control
Bluetooth® hands-free connectivity with steering wheel controls

The 2.0T Premium model adds or substitutes:
Power driver's seat
360-watt AM/FM/XM/MP3/CD-changer Infinity® premium audio system with 10 speakers including DVC subwoofer, eight-channel external amplifier, and diversity antenna
Proximity Key with push-button start
Auto-dimming mirror with HomeLink® and compass
Power tilt and slide sunroof
Navigation system (mid-model year availability, pricing TBA)

The factory-tuned 2.0T Track model builds from the 2.0T Premium, adding/substituting:
19-inch gunmetal-finish alloy wheels with staggered high-performance summer-compound Bridgestone Potenza RE050A tires (225/40YR19 front, 245/40YR19 rear)
Unique Brembo® braking system with 13.4-inch ventilated front rotors, 42mm four-piston fixed front calipers (red), 13.0-inch ventilated rear rotors, 32mm+28mm four-piston fixed rear calipers (red)
Unique track-tuned suspension, higher-rate coil springs, higher-control shock absorbers, 25mm front stabilizer bar, 22mm rear stabilizer bar, front strut brace
Torsen-type limited-slip differential
Black leather bolster seats with high-friction red cloth insert
Aluminum pedals
Aero wipers
Rear spoiler
Xenon HID (High Intensity Discharge) headlights
Fog lamps
Lightweight temporary spare with aluminum wheel (T135/80D18)
Navigation system (mid-model year availability, pricing TBA)
Note: Automatic transmission not available with 2.0T Track

Later in the model year, a tuner-focused performance model, R-Spec, will arrive at Hyundai dealerships. Genesis Coupe R-Spec is the ultimate upgradeable, affordable, turbocharged rear-wheel drive performance platform. R-Spec equipment includes:
2.0-liter low-pressure turbocharged intercooled four-cylinder engine with dual continuously variable valve timing delivering 210 hp, an estimated 30 mpg EPA highway rating and a top speed of 137 mph
6-speed close-ratio manual transmission
Electronic Stability Control with Traction Control, ABS, Electronic Brake-Force Distribution and Brake Assist
19-inch gunmetal-finish alloy wheels with staggered-width high-performance summer-compound Bridgestone Potenza RE050A tires (225/40YR19 front, 245/40YR19 rear)
Brembo® braking system with 13.4-inch ventilated front rotors, 42mm four-piston fixed front calipers (red), 13.0-inch ventilated rear rotors, 32mm+28mm four-piston fixed rear calipers (red)
Track-tuned suspension (higher-rate coil springs, higher-control shock absorbers, 25mm front stabilizer bar, 22mm rear stabilizer bar, front strut brace)
Torsen-type limited-slip differential
Quick-ratio hydraulic steering (2.7 turns lock-to-lock)
Tire Pressure Monitoring System
Front, side, side air curtain air bags
Active front head restraints
Driver's lumbar support
Air conditioning
Remote keyless entry with alarm
Leather-wrapped steering wheel and shift knob
Power windows (one-touch up and down), door locks and mirrors
AM/FM/XM/MP3/CD audio system with six speakers
iPod/ USB/Aux jack connectivity
Projector beam headlamps
Lightweight temporary spare with aluminum wheel (T135/80D18)
Note: Automatic transmission not available with R-Spec

Genesis 3.8: 306 horsepower and standard leather interior – a new benchmark for performance and refinement in its class
Standard equipment includes 2.0T equipment, and adds or substitutes:
3.8-liter DOHC V6 engine with dual continuously variable valve timing delivering 306 hp and a top speed of 149 mph
M6VR2 6-speed manual transmission (Optional: ZF 6HP19 6-speed electronic automatic with lockup torque converter and steering wheel-mounted paddle-shift Shiftronic® controls)
Black leather seating surfaces
Fully automatic temperature control
Premium door sill plates
Chrome front fascia accents
Fog lights

In addition to 3.8 equipment, the 3.8 Grand Touring adds or substitutes:
Unique brown leather seat interior environment
Power driver's seat
Heated driver and passenger seat
360-watt AM/FM/XM/MP3/CD-changer Infinity® premium audio system with 10 speakers including DVC subwoofer, eight-channel external amplifier, and diversity antenna
Proximity key with push-button start
Xenon HID (High Intensity Discharge) headlamps
Auto-dimming mirror with HomeLink® and compass
Heated mirrors with outside turn signal indicators
Backup warning system
Power tilt and slide sunroof
Navigation system (mid-model year availability, pricing TBA)

The factory-tuned 3.8 Track model deletes the backup warning system and chrome front fascia accents from the Grand Touring model, and adds or substitutes:
Black leather seating surfaces
19-inch gunmetal finish alloy wheels with staggered high-performance summer-compound Bridgestone Potenza RE050A tires (225/40YR19 front, 245/40YR19 rear)
Brembo® braking system with 13.4-inch ventilated front rotors, 42mm four-piston fixed front calipers (red), 13.0-inch ventilated rear rotors, 32mm+28mm four-piston fixed rear calipers (red)
Unique track-tuned suspension, higher-rate coil springs, higher-control shock absorbers, 25mm front stabilizer bar, 22mm rear stabilizer bar, strut brace
Torsen-type limited-slip differential
Aluminum pedals
Aero wipers
Rear spoiler
Black-out front lower fascia
Lightweight temporary spare with aluminum wheel (T135/80D18)

Genesis Coupe will be available in nine exterior colors:
Karussell White
Bathurst Black
Silverstone
Nordschleife Gray
Acqua Minerale Blue
Tsukuba Red
Mirabeau Blue
Lime Rock Green
Interlagos Yellow

Genesis Coupe features four different interior themes:
Black environment, premium black cloth seats (2.0T, 2.0T Premium, R-Spec)
Black environment, black leather-bolstered seats with high-friction red cloth insert (2.0T Track)
Black environment, black leather seats (3.8, 3.8 Track)
Black environment, saddle brown leather seats (3.8 Grand Touring)