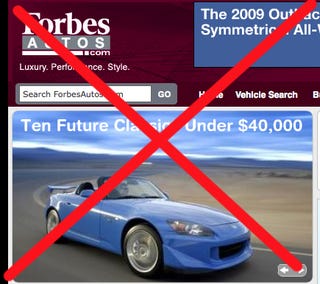 Rumors have flown all week about
Forbes
planning to
axe
their
Forbes Autos
division. Those rumors look to be confirmed by
Alley Insider
, though a spokesperson refused to confirm or deny those rumors to us. Though the
Forbes
auto site has never been a major player in the automotive news business, it illustrates a reality: less automaker revenue means
less ad revenue
means less automotive outlets. This is especially true for an operation like
Forbes.com
, which sought to squeeze out more luxo-advertising bucks by creating their own custom content channels and putting themselves in a bad position come a down cycle. Oh, yeah, and it also serves as a reminder of how the
Financiapocalypse
could affect me, personally. Therefore, I've decided to say some nice things about my employers before I end up getting canned or made to feed the hamsters in our server farm for a salary of wooden nickels and all the sawdust I can eat.
Nice things about Ray Wert
1. You have nice hair. 2. The Burberry accessories do a great job of hiding your otherwise cheap wardrobe. 3. You're not the worst driver in the world, just the worst driver I've ever met.
Nice things about Nick Denton
1. I've never met you but I hear you smell like freshly minted silver dollars. 2. You publish
Deadspin
and this site, two places I spend a lot of my time. 3. You make wonderful charts. Oh, and for the record, Ben badmouths both of you all the time. [via
Alley Insider
]