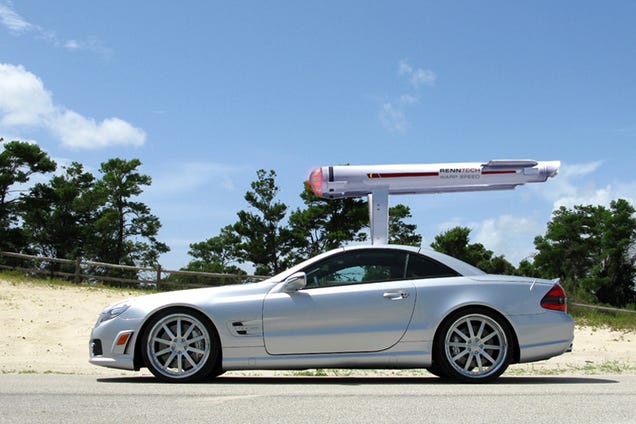 The Cold War may be over but the ongoing battle between Mercedes-tuning shops
BRABUS
and
RENNtech
continues to heat up. We've all seen this war of HP — BRABUS releases photos of their
530 HP AMG C63
. Later that day RENNtech releases their tuned
548 HP AMG C63
. Next, RENNtech tunes an
SLR McLaren
and throws in track time. Later in the week, BRABUS tunes their
SLR McLaren
and throws in a tuned Smart. But it was after RENNtech tuned a
GLK hybrid
last week when BRABUS deigned it necessary to create a "photon torpedo gap" between the two shops — releasing a tuned
Tesla Roadster
earlier today on the waves of spaceship-like sounds and LED lights. Not willing to let such a gap continue, our sources tell us RENNtech's upped the ante into a new galaxy with a mysterious "warp speed" feature. Hit the jump to hear what they had to say. The biggest feature of the
BRABUS Tesla
is a "space sound generator" capable of creating the sound of a V8, or if you so desire, "beam" and "warp" sounds. They are not alone. An anonymous insider close to RENNtech had this to say:
We were very surprised to see that there was another tuner working on a warp option - and they have set the bar very high for other tuners looking to compete with a warp product. The message is clear: anyone who wants to tune cars in the 21st century will need more LEDs.
As of press time we've had no confirmation of the contents of such a system, but the leaked photo above seems to point to a type of warp drive seen on early Federation ships. RENNtech would would neither confirm nor deny the use of dilithium crystals.