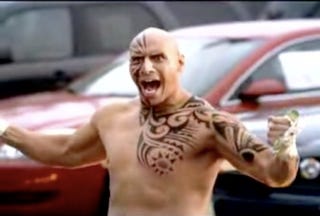 Thanks to the
Financiapocalypse
, we're expecting pickings to be slim in this year's
Super Bowl Auto Ad Watch
. Thankfully, despite the economic turmoil,
Cars.com
, the #2 player in the "mega-car-selling-conglomerate" game, is again looking to spend some mad cash on a commercial in February's Super Bowl. Last year's
commercials
weren't too shabby, so we're interested to see what the plucky little site with the automotive industry's most basic name is able to do this year. We're hoping it involves
Cars.com
's
Kicking Tires
blog editor
Dave Thomas fighting Glondor in the stone circle death match
. Hit the jump for the full release.
Cars.com Set to Kick Off 2009 Marketing Campaign With New Super Bowl Spot CHICAGO — Nov. 10, 2008 — Cars.com, a leading online automotive shopping destination, today announced plans to kick off its 2009 marketing campaign by once again advertising during the Super Bowl. This is the second year that Cars.com will advertise in the Big Game. Super Bowl XLIII will air on NBC on February 1, 2009. "We made significant strides in moving our brand forward through our Super Bowl ads and our overall marketing campaign in 2008," said Mitch Golub, president of Cars.com. "We want to keep that momentum moving forward in 2009, and advertising on the Super Bowl - which was seen by a record 97.5 million viewers - gives Cars.com a way to kick off that campaign in a big way." Cars.com will have one 60-second commercial that will air during the second quarter. The spot will feature a new twist on its successful 2008 "Confidence Comes Standard" campaign. The campaign features car shoppers who are confident in their new car purchase because of the preparation they did on Cars.com. Their preparation keeps them from resorting to an outrageous "Plan B" scenario they initially thought they would need to get the deal they wanted from the dealer. The Cars.com 2009 plan will be a national, integrated media campaign that will run throughout the year and will be backed by the local promotional power of Cars.com's affiliate network, which includes hundreds of leading newspapers, TV stations and their websites. Since Cars.com launched its first national media campaign in May 2004, the company has continued to set records in the number of monthly unique visitors to the site. Today, more than 10 million people visit Cars.com each month. "Cars.com's media campaigns have always been about reaching high-quality, ready-to-buy customers and delivering them, ultimately, to our dealer partners," Golub said. "As we roll out our national media campaign for 2009, we will continue to drive recognition of the Cars.com brand and further establish the site as a leading car shopping destination so, as consumers begin looking for a new car, Cars.com is top of mind." About Cars.com Cars.com is the leading destination for online car shoppers, offering credible, easy-to-understand information from consumers and experts to help buyers formulate opinions on what to buy, where to buy and how much to pay for a car. With comprehensive pricing information, side-by-side comparison tools, photo galleries, videos, unbiased editorial content and a large selection of new- and used-car inventory, Cars.com puts millions of car buyers in control of their shopping process with the information they need to make confident buying decisions. Launched in June 1998, Cars.com is a division of Classified Ventures, LLC, which is owned by leading media companies, including Belo (NYSE: BLC), Gannett Co., Inc. (NYSE: GCI), The McClatchy Company (NYSE: MNI), Tribune Company and The Washington Post Company (NYSE: WPO).