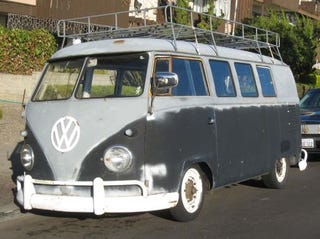 Welcome to
Down On The Street
, where we admire old vehicles found parked on the streets of the Island That Rust Forgot: Alameda, California. Alameda is definitely a VW Transporter sort of town; you can find all the major Transporter-loving groups here, from original-owner curmudgeons to
Spicoli
-grade surfers. Yes, even though Alameda is inside San Francisco Bay and thus gets waves better measured in inches than in feet on its beaches, we still have plenty of surfers here. Windsurfers and kite surfers, that is, crazies who think nothing of braving the 50° water, howling winds, and vicious currents on their boards. And when they're done flirting with death for the day, they need a proper vehicle to
store their bongs
haul their gear back home.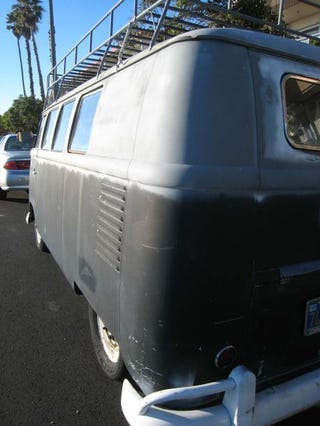 We've seen many roof-rack-equipped Transporters in this series, including
this '56
,
this '57
,
this '60
, and
this '66
. Since this chalkboard-patina example is parked at the beach, I suspect its roof rack is often used to secure boards, sails, etc., leaving room for the
bongs
wetsuits inside.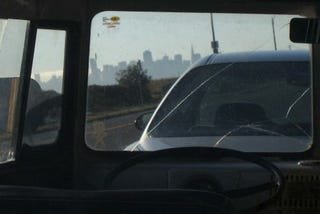 Look, nice view of San Francisco through the windshield! And, of course, we must have my usual Old VW Disclaimer: I chose 1959 as the model year of this bus more or less by picking numbers out of a
bong
hat; I know it's got to be in the 1956-62 range, but that's the best I can do. Experts?