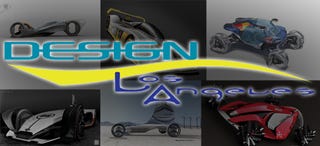 As part of the
LA Auto Show
, the 2008 LA Design Challenge competition places some of the world's most creative designers into a steel battle cage with a cadre of vicious weapons d'arte, forcing them to battle to the death. Okay, we made that up, but the LA Design Challenge is a competition, although one which features creative designs all based on a central theme. This year's theme is the shape of racing in the year 2025. Letting designers run wild with ideas is as dangerous as it sounds and while there will be no bloodshed on the field of battle, madness might beset the eventual winner. Although we've already seen
one
of the entries — join us as we take a look at all nine incredibly crazy entrants in detail.
The Audi R25 is basically the wet dream of Audi Design Center California and the Audi racing team. Imagine an R10 on acid with a bespoke race track and virtual reality viewing for spectators. Bonkers? Yes. Awesome? Ja.
We've seen the
Mitsubishi MMR25
before, and the spidery-footed Mitsu is a more impressive concept now that we know it isn't just total baloney. There are actually wheels out there
designed for fork lifts
that share this design and it allows the vehicle to move sideways. That would certainly liven up the WRC wouldn't it?
This one is a race car for the
Mad Max
future. The BMW salt flat racer is powered by everyday hydrogen but built of scrap — leftover barrels, barbecue grill lids, etc. Heck, there are even fish swimming around in the "fuel" tank.
Mercedes proves racing doesn't really need to have fuel with the Formula Zero. Something of a hybrid between a sailboat and an ice racer, the Formula Zero is perfect for the distant future where racing on open water is impossible because there isn't any.
Now here's an EV we can get behind. The GM Chaparral Volt is designed and an EV racer first, but also takes inspiration from the legendary Chapparal 2J and uses rear turbines to capture wind power during braking, but also provide suction under power. The Volt does it's best 70' funk band impersonation and pulls power from earth, wind, and fire, or, geothermal, aerodynamics, and the sun.
The Toyota Lemans Racer is a shape changing race car with efficiency in mind. The car uses hydrogen fuel cells and photovoltaics for power to the electric motors, but it also shifts from a wide stance for cornering to a narrow on for high speed. It's actually fairly realistic, but could definitely use a more creative name.
Land, sea, and air, this Honda entry is designed to run in a reimagined "Great Race." The competitors would circumnavigate the Earth in 24 hours by land through the United States, by sea through Asia and by air over Europe. That's a hell of an ambitious race if you ask us, sure would be sweet though.
The VW Bio Runner imagines a Baja 100 race with a 10 gallon limit and no holds barred. The Bio Runner would be equipped with ultra efficient turbine engines (is that an oxymoron?) running at 500,000 rpm powering the machine through curves which it could lean into like a motorcycle. Almost as interesting is the hook-up to a helicopter to get the racers out of trouble when they wreck their rides.
Kaaaaaaaaan! Mazda Kaan that is, designed to race on a conductive surface which not only provides super smooth running up to 250 MPH, but powers the car on electrons only. And it looks like a shoe... to boot!
[
Design Los Angeles
]