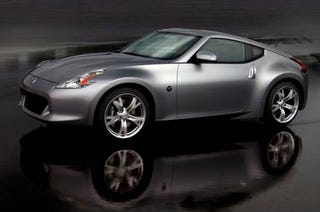 With the new
2009 Nissan 370Z
scheduled to drop cloth at the
LA Auto Show
at the end of November, we figured it high time to give you an up-close look at what you should expect to see. Better yet, we decided not to give you some namby-pamby camo-covered silliness in favor of some speculatively rendered (sans a lot of speculation) shots of the new, slightly-smaller, but also slightly up-powered Z-car thanks to our good friends at
KORS Design
. Although we already all know to expect the 3.7-liter Nissan VQ engine under the hood just like the
Infiniti G37 coupe
and
sedan
, we're expecting it to seriously kick some ass, more than likely exceeding the G37 coupe's 330 HP and 270 lb-ft of torque. But that's not all we should expect. Hit the jump for the rest of the story.
It's also pretty likely we'll see that engine mated to your choice of either a seven-speed automatic, like the just-introduced G37 sedan, or with a manual transmission. But the real story here's going to be the reduction in size of the new "Z," as Nissan moves it to the FM platform, reducing the size from the 350Z's current 104.3-inch wheelbase to something just shy of 100 inches — taking it back to more sports car-esque roots. We've also been told to expect a familiar-looking interior, but with significantly upgraded materials from the 350Z's oft-discounted plastic dash. We're told we'll find out for sure how close our renderings are come October 29th when we hear we'll see the first official photos of the car, and all the deets on the technical side should hit November 11th. Don't expect to see a roadster come next month, but don't toss it out as an optional reveal for later into the winter auto show schedule.
Some say he has a tattoo of a Saleen S7 on his rear end. Others tell us he was born with a penchant for oil rather than his mum's milk. All we know is he's called the Auto Insider and he's always ready to provide the scoop from the other side of Eight Mile.