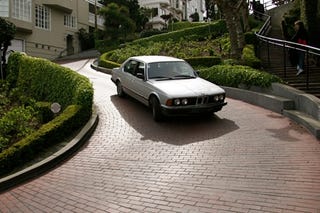 Seeing the
BMW 735i parked down on the street
this morning we were reminded of one of our past rides, a European-spec E23 BMW 732i. Since it was a gray-market import, the papers had been fudged a bit, but we're pretty sure it was a 1983 model. I bought it a few years ago while visiting San Francisco, which seemed like a great idea since I had just totaled my Buick LeSabre and had the insurance cash burning a hole in my pocket. I'm well-versed in '80s BMW trivia, but had never even heard of the 732i. As a Euro-only model, the 3.2-liter inline-six had a slightly higher compression ratio than the unit in the US-spec 733i, but more importantly, mine had a 5-speed manual gearbox. That transmission was the selling point for me.
A big car that was cheap, unique, and relatively fun to drive? It ticked all the boxes. But not long after buying it, I decided it would be fine if I let a friend drive it around the urban mountains of San Francisco. Bad idea. The clutch was history. This was worse that you might think, because I was there on a work trip, and everyone was leaving the next day. Now, before the car broke, the plan was to make a road trip out of the journey back to East Texas where I was living at the time. You know, cruise down the PCH and all of that. So much for that idea. So how would I get the beast home with a frozen clutch? Well, we had brought a huge U-Haul truck from Texas, so I decided to drive over to Oakland, rent a tow dolly (yes, the kind that just drags the car on two wheels), hook up the car, and drive half way across the country with this ridiculous rig. The car's clutch was replaced by the good folks at
BMP
, but that wasn't the end of its problems. Some months later I rear-ended a friend, which crunched in the headlights and grille on the passenger's side. Of course, I it wasn't covered by my insurance, so I just didn't drive at night after that. It's a good thing I didn't fix it though, because not long after that the head gasket gave up and everything grounded to a halt. I parked the 732i and bought a dirt cheap '87 BMW 535is (complete with peeling clearcoat). After attempts to sell it for parts failed, I figured the best thing to do was just leave it there. My time had come to move back to Michigan, and it just wasn't worth towing the car anywhere. The parking lot I left it in was a sort of graveyard for broken beaters, but I have no idea what happened to the 732i. Maybe I'll make a pilgrimage back down to see if I can pull some parts off it for
my 633CSi
.
(Photo credit: Eric Mackintosh)