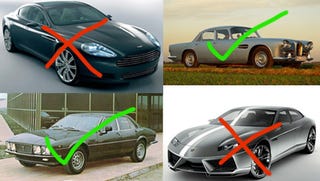 Lately, a few brands have been defining their own modern interpretations of the super sedan, with efforts like the
Aston Martin Rapide
,
Lamborghini Estoque
,
Porsche Panamera
, and even the
Fisker Karma
. The problem is they all feel a bit vulgar, lacking the
cool
factor of super sedans in the past. But before we can define what a super sedan is, first we must define what an ordinary sedan should accomplish. Obviously, a sedan is a four-door automobile with a trunk in the back; we'd say it's fair to expect any good sedan should also drive confidently, be reasonably comfortable, and tastefully styled. So, along those lines, a
very
good sedan would be something like an
Audi A6
— very good to drive, very comfortable, and very nice to look at. You might be thinking then, a
super
sedan is something like the fire-breathing
Audi RS6
, a machine that takes all the premium facets and simply adds more. That's part of it, but a true super sedan also needs exclusivity and that most intangible quality: character. With that in mind, here's our list of the top ten coolest super sedans ever.
10.) Daimler Double Six Vanden Plas (Series 1)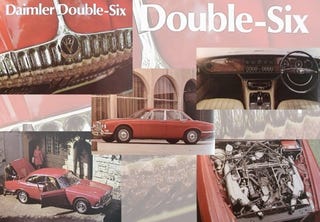 It may look like a Jag, but that's because it essentially is an upmarket version of the Series 1 Jaguar XJ. So why not just get the Jag? Remember, these were cars produced by British-Leyland in the '70s, so basically you were paying the Daimler premium not just for the badge, but for someone to actually pay attention when they were bolting the thing together. With that you got better wood, leather, and exclusivity as well. 885 Double Six models equipped with the monstrous Jaguar 5.3-liter V12 were made, with just 351 of those being the long-wheelbase top-of-the-line Vanden Plas models. Grace, pace, space, and then some. [
source
,
image
]
9.) Maserati Quattroporte IV Evoluzione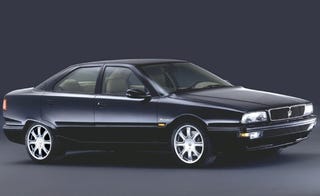 Since its first incarnation in the '60s, the Maserati Quattroporte has been the definitive super sedan. We think these fourth generation models were the coolest. Made during an era when Maserati was content purely as niche brand, it was arguably the most exotic Quattroporte, with styling by the same guy that penned the Lamborghini Countach. The last run of cars, known as the Evoluzione, benefited from a long list of minor improvements brought on by the brand's new owners: Ferrari. The twin-turbo 3.2-liter V8 was good for 336 HP. Perhaps not as beautiful as the first or most recent generations, the Quattroporte IV was crisp, clean, and handsome. [
source
]
8.) BMW 745i (E23)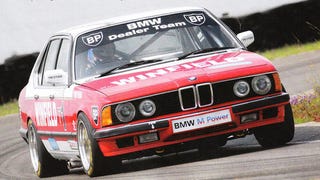 The first thing to know about the E23 BMW 745i is
which
745i is being talked about. The 745i that most of the world knows is powered by a turbocharged version of the commonplace M30 inline-six mated to a slushbox. Early models had 3.2-liter engines fed by 10 PSI of boost, later models with 3.4-liter mills but just 6 PSI from the turbo. That's all well and good, but down in booming '80s South Africa, the turbo setup simply wouldn't fit under the hood of right-hand-drive models. So, some touring car racers decided to just take a 7-Series and drop in the M88 inline-six from the BMW M1 supercar, good for 286 HP. Now referred to by some as the M745i, these cars were the closest the world has ever come to having a true BMW M7. The idea caught on, but of about 209 examples built, only a precious 17 or so came with a 5-speed manual gearbox. Tick the right boxes and you could even have power reclining rear seats covered in water buffalo hide. [
source
]
7.) DeTomaso Deauville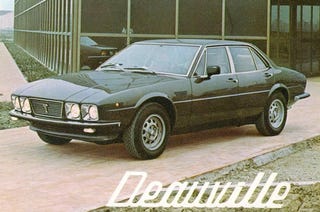 Italian style with American grunt was what defined DeTomaso, but not everyone knows the supercar builder also had a super sedan. Using the same 5.7-liter Ford V8 found in the Pantera, the Deauville is said to have had as much as 330 HP on tap. Sure it was equipped with a humble 3-speed slushbox, but don't think that meant it wasn't fast. For instance, Alejandro De Tomaso arrived in a Deauville at the car's press release at the DeTomaso factory stating that he had left Rome just two hours before, meaning he had averaged about 155 MPH...though that may have been a bit of hyperbole considering the standard car topped out at about 143 MPH. Either way, with just 244 examples built, the Deauville was seriously exclusive, and unmistakably cool. [
source
]
6.) Iso Rivolta Fidia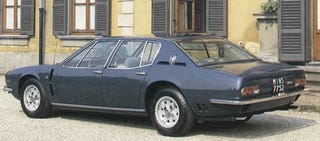 Say you wanted the Italian-American character of a DeTomaso, but with Chevy power and a bit more flair? Look no further than the
Iso Rivolta Fidia
. Designed by one Giorgetto Giugiaro while he was still working for Ghia, the Fidia perforates its sharp, slab-sided body with elegant vents along the C-pillar and behind the front fenders. It's the sort of sedan that would look perfect parked in a two-car garage next to a Ferrari Daytona. Equipped with a 350 HP 5.3-liter V8 sending power through a 4-speed manual gearbox, it might even be able to keep up with the prancing horse. But was it cool? Well, John Lennon thought enough of the Iso to buy one. [
source
,
image
]
5.) Bentley Turbo RT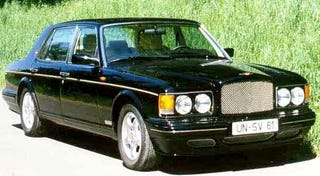 Inevitably, any list of super sedans will include a Bentley, but why this one? While it's hard to distinguish one of Crewe's cruisers from another, the RT is set apart from the standard Bentley Turbo R by details like the sport wheels and radiator mesh grille. But if that isn't enough to make you take notice, the 400 HP erupting from the 6.75-liter turbocharged V8 should be. Still not impressed? How about 590 lb-ft of torque available at just 2000 RPM. Admittedly, there have been more powerful Bentleys since the Turbo RT, but this was the last super sedan sold before Volkswagen took ownership of Bentley in 1998. Just 50 were made. [
source
]
4.) Lagonda Rapide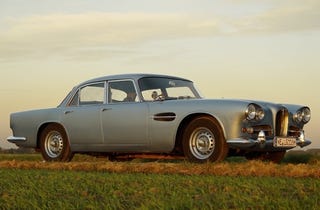 No, not that
Lagonda
; not that
Rapide
either. This here is the original. Based on the Aston Martin DB4, the Lagonda Rapide pioneered the 4.0-liter inline-six engine that would later be used in the DB5, as well as a rear-axle design that didn't again see production until the DBS of the late '60s. The 236 HP may not seem like much today, but with a top speed of 130 MPH, it was plenty. From 1961 to '64 only 55 Rapides were made. [
source
,
image
]
3.) Mercedes-Benz 450SEL 6.9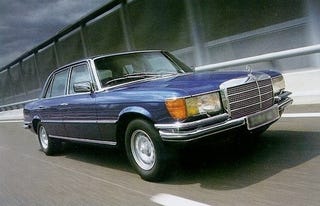 We've already gone on at length as to why we love the
Mercedes-Benz 450SEL 6.9
, back when we parked it in the Jalopnik Fantasy Garage. But how can't you be in awe of the mighty 6.9? It wasn't a simple muscle car with 286 HP and 405 lb-ft of torque from the big V8, it was a sophisticated showcase and perhaps the best all-around car of its time, with a Rolls-Royce price tag to match. [
image
]
2.) Monteverdi 375/4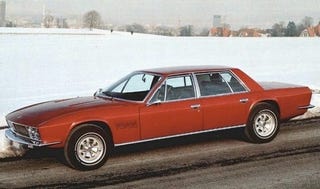 A Swiss super sedan with Mopar power, the Monteverdi is pure coolness. The standard 7.2-liter V8 engine was no slouch, but the High Speed was what you really wanted. Indeed, this thing had a HEMI, 426 cubes worth, and the 7.0-liter V8 was good for essentially as much power as you wanted to tune it to make — production 375/4s were in the neighborhood of 450 HP. Combine that with a tube-frame chassis, a TV in the back seat and devastatingly sinister styling, and it's hard to imagine anything we'd rather own. [
source
,
image
]
1.) Ferrari 456 Venice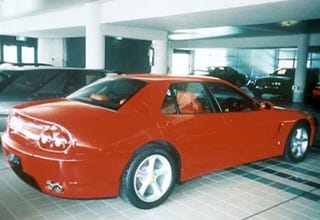 Of course, the top spot goes to none other than a creation commissioned for
the Sultan of Brunei's massive collection
. Pininfarina made many cars for the Sultan over the years, but the handful of Ferrari 456 sedans were perhaps the most elegant. Powered by the same 5.5-liter V12 as the standard coupes, they had 436 HP. If a super sedan is the perfect blend of sedan and supercar, the 456 Venice was the definitive example.