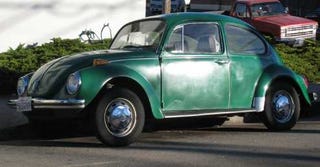 Welcome to
Down On The Street
, where we admire old vehicles found parked on the streets of the Island That Rust Forgot: Alameda, California. One thing I've tried to do is keep Volkswagen Old Beetles from overwhelming the series; that's because there we've got more air-cooled Beetles than any other type of old car on the island- more, even, than Chrysler A bodies. This doesn't mean, however, that I should avoid them completely- I just need to space them carefully… and our last one was
all the way back in June.
So here we go- our first DOTS Super Beetle!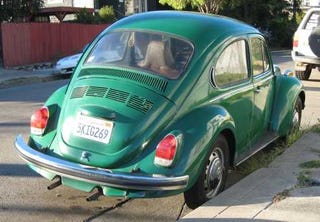 I'd had a couple of old-style Beetles prior to getting my first Super Beetles, and the switch from the old torsion-beam front suspension to McPherson strut suspension (this being the primary difference between the Super Beetle and the regular kind) didn't
feel
all that meaningful while driving. However, the new front suspension made room for lots more storage space under the hood. I'm not 100% sure of the year of this car; it's older than 1973, because the windshield is flat, but I'm not enough of an expert to tell the difference between a '71 and a '72. Maybe some of you can!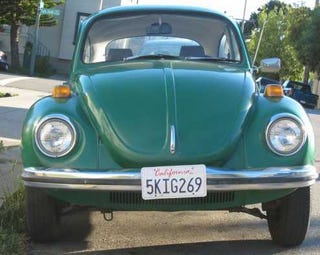 The regular Beetle sold for $1,845 new in 1972, while the Super went for $1,985. This was
seriously
cheap; the $1,798 Toyota Corolla, the $1,992 Fiat 128, the $1,960 Ford Pinto, the $2,017 Plymouth Cricket, the $2,060 Chevy Vega, the $1,828 Opel Kadett, the $2,040 Subaru 1300, and the $1,999 AMC Gremlin were all in about the same price range. Which would you have bought, had you been a car shopper on a very tight budget back then?