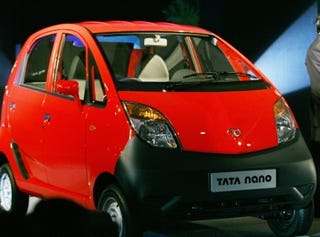 Recent developments have put into serious jeopardy Indian automaker Tata's attempt to build the world's cheapest production car, the
Tata Nano
.
Reuters
reports today
the most serious roadblock to building the car since the Nano was first unveiled back in January. According to the wire service, Tata has now abandoned their attempt to build the Nano factory in the West Bengal state of India. Early last month we'd heard
Tata put to halt construction on the Nano factory
in West Bengal due to increasingly violent protests from farmers surrounding the site. Now, today's news that the company will abandon said site brings into question whether they'll be able to find a suitable location to build the micro-car. The company's chairman, Ratan Tata, said Friday the company had not yet decided where it would build the car but that offers of sites from three or four other states were being evaluated. While that's troubling in and of itself, there also appears to be some confusion on the price tag of the little car. In today's report,
Reuters
claims the car will now only cost $2,130 — contradicting the price of $2,500 (or higher, thanks to
rising material costs
) we've been hearing since it was first unveiled in January. We're not quite sure where they're coming from with this price tag, but if it's something Ratan Tata is tossing out as the price, we can't help but think it's an attempt by the automaker to continue to increase buzz around the product to drive up desire on the part of other states to buy into locating his factory there. More likely it's just
Reuters
getting the number slightly wrong. But, all of this is drawing into question whether we'll ever see the car, already announced to have hit the streets before the end of the year. We're thinking more than likely they will, but we're interested in knowing what you think. So, will Tata ever build the Nano?