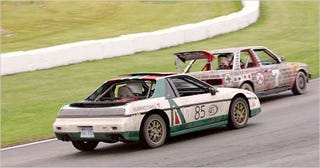 The Pontiac Fiero may be one of the most perfect 24 Hours Of LeMons racers that very little money can buy. On paper, it looks like it should dominate: mid-mounted V6 engine, lightweight plastic body, and so on… but Fieros
always blow up
at LeMons. That's what makes them so great, because the spirit of the race is best captured with a sure-to-disintegrate fast car that makes heroes of its team members. And hey,
when hell freezes over
one day a Fiero will take the checkered flag! Until then, we'll be able to read accounts such as the one written by Seven Lap Fiero team member Eddie Alterman for the
New York Times
. Be sure to watch the highly entertaining video in the article by sometimes
Jalopnik
photographer Fabrizio Costantini, and then contemplate the pervasive, STD-esque spread of my term "
Malaise Era
," which gets dropped in the piece.
You might also enjoy Motorweek's coverage of the
LeMons South
event:
[
New York Times
]
Photo Credit: Fabrizio Costantini for the NYT