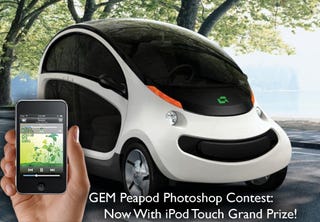 When we kicked off the original
GEM Peapod Photoshop
contest, it was more as a lark than anything else, but the folks on the
GEM Peapod
team discovered it and thought it was a brilliant idea. So brilliant, in fact, that although Chrysler isn't a sponsor of the contest, they've graciously offered to supply an
iPod Touch
as a grand prize for the winner in exchange for us telling you
"If you'd like more information on the GEM Peapod, click here."
Seems fair to us. Now, considering the ante has been substantially upped from a virtual pat on the back to a free piece of sweet tech, we figured it was only fair to re-open the contest for all you creative types out there. All the
old submissions
(on time and late) will remain eligible, so no need to worry if you made one for the fun of it. Feel free to use any image of the
Peapod
we have hosted on this site or elsewhere. Submit entries to me at ben@jalopnik.com and please include in the subject line "GEM Peapod Photoshop Contest." Make sure to name your entry something unique so we can keep them all straight.
Standard contest rules apply
, submissions will be accepted until Monday, September 29, 2008, at 11:59 PM. Good luck, and may the best Photoshop win!