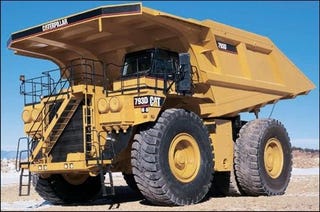 The colossal Caterpillar 793 is one of the coolest pieces of heavy machinery on the planet. Traditionally powered by immense 16-cylinder engines churning out over 2000 HP, we're now being told by Caterpillar that a new electric-drive version is on the way. But don't think that means it's going soft. The new 793F AC can carry about 250 tons of junk in its trunk, and that's just the entry-level model. The burly 795F AC can take about 400 tons. That's like having Arnold Schwarzenegger possessed by Al Gore...all while on horse steroids. Press release below the jump.
To clarify, the original photo (which you can still see below, since it's so awesome) is actually a Komatsu, not a Caterpillar. The above photo is now an actual Cat 793.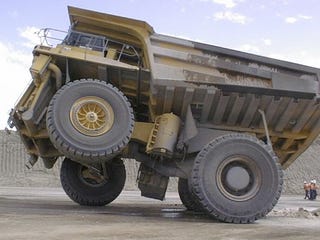 PEORIA, IL - Caterpillar Inc. (NYSE: CAT) is unveiling the next generation of mining trucks at MINExpo 2008 in Las Vegas, NV. Along with improved safety features, Tier 2 compliant engines and new integrated technologies in the existing Cat mining fleet, the company has developed electric drive mining trucks that will debut at the expo September 22-24, 2008. "When our customers asked us for improvements to our mining trucks, we responded by making a record investment in every single truck in our line, as well as the increased capacity to produce more of them," said Caterpillar Group President Stu Levenick. "New technologies have allowed us to make trucks more reliable, easier to maintain and more friendly to the operator and to the environment". While Caterpillar believes mechanical drive is the best solution for the vast majority of situations, the company listened to its customers and explored the situations and conditions where electric drive would be the preferred option. As the only manufacturer of 200-ton and above mining trucks with both drives, Cat is able to offer trucks that address all of its customers' preferences. "Cat will produce mining trucks for every application-uphill, downhill, flat or extreme conditions-and now with electric as well as mechanical drive," said Chris Curfman, president of Cat Global Mining & vice president of Caterpillar Inc. At MINExpo 2008 Caterpillar will introduce four new trucks. The 793 series in the 240- to 250-ton class will be available in both mechanical (793F) and electric (793F AC) versions. The 345-ton 795F AC, a new size for Caterpillar, will be available in electric drive only, while the flagship 797B is replaced by the new 797F mechanical drive, maintaining its 380- to 400-ton target payload. The 797F and 795F AC, along with the recently introduced 777F, will be displayed on the exhibit floor. Completing Caterpillar's new mining truck line will be new versions of the 785 and 789 mechanical drive trucks, upgraded to meet customer requirements for safety, serviceability, operator comfort and emission standards. "The breadth of our product line puts our customers in a unique position to evaluate and select the best fit for their operations," said Curfman. "Every machine is designed, built, serviced and supported by Caterpillar and the Cat dealer network, so customers get higher availability and a lower cost per ton-from one reliable source." In the late 1960s Caterpillar was one of the first manufacturers to commercialize electric-drive trucks but elected to focus its design and development efforts on mechanical drive. With advances in AC drive technology, coupled with proven components and technologies from existing Caterpillar products, the company concluded it was the appropriate time to make electric drive available to its customers as a complement to its highly successful mechanical drive. The next generation of trucks will be phased into production over the next two years, with the Cat AC drive models expected to go into production in late 2010.
[via Caterpillar]