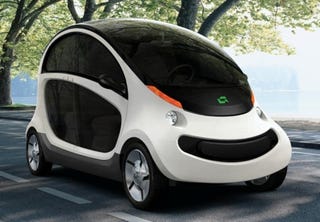 We got a look at the
Chrysler "Peapod"
this morning, though at the time we didn't know it was actually the GEM Peapod. The "Global Electric Motorcars" all-electric range of "community vehicles" has been on sale for ten years now. The Peapod is the latest concept set up for a debut in GEM's 2009 lineup, which also gets an updated and greenwashed name - GreenEcoMobility (blech). If you're into the details of an electric, four-passenger, 25 MPH, 30-mile-range overgrown golf cart, there are plenty of 'em in the official press release below.
GEM Introduces Peapod Neighborhood Electric Vehicle – the Next Generation of Clean and Green Transportation – No Gas. No Emissions. Pure Electric. * Chrysler LLC's neighborhood electric vehicle gets a new name - 'GreenEcoMobility' - and new styling that will define and set a new standard for environmentally responsible vehicles * Sleek, streamlined styling and breakthrough innovations converge in the next-generation eco-friendly car * More to come as Peapod leads expansion of GEM's 'no-gas, no-emissions' clean vehicle lineup Auburn Hills, Mich., Sep 23, 2008 - Clean and green transportation gets a new look and feel as GEM, a Chrysler LLC company, introduces the next generation of clean, gas-free and emission-free, battery electric vehicles. The vehicle's innovative, groundbreaking design, with its striking pod-like shape and sleek lines, reflects the environmentally friendly nature that has been the hallmark of GEM since its founding 10 years ago. The user-friendly mood of the vehicle, named the GEM Peapod, is enhanced with the newly designed center console that will offer iPod integration, as well as hands-free operation of the customer's iPhone. Other innovations include ergonomic, supportive, mesh seating, which enables air circulation for comfort and uses eco-friendly recycled and recyclable materials. "We have evolved the GEM design language to better reflect its eco-friendly performance and its upbeat, positive image," said Peter Arnell, Chrysler LLC's Chief Innovation Officer who led the design process. "These vehicles use no gasoline and emit no pollutants. So whether it's a trip around the neighborhood or the drive to school or work, the GEM Peapod is the ideal way to contribute to a greener planet, and a healthy lifestyle." GEM will also get a new name – GreenEcoMobility, Arnell said, signifying the company's goal to redefine environmentally friendly vehicles. Chrysler will show the styling model for the production 2009 GEM at the company's headquarters Sept. 23. The re-designed GEM is scheduled for production in 2009. The Peapod represents the first in a series of product launches that will redefine the future of electric vehicles, said the company's CEO Bruce Coventry. "With this next generation GEM, we will broaden the market for this clean, emission-free technology," Coventry said. In addition to the 2009 GEM Peapod neighborhood electric vehicle, Coventry said, GEM has plans to market a new light-duty, battery electric commercial truck and a larger city electric vehicle, with more range and performance. These vehicles are scheduled for production within the next year, he said. Today's GEM is the nation's No. 1 zero-emission electric vehicle, with 38,000 produced and in use. GEM vehicles are used in settings such as city centers, planned communities, military bases, college campuses, corporate and commercial centers, and city, state and national parks. "Over the past decade, GEM has established itself as the nation's leading battery-powered, pure electric vehicle," said GEM President and COO Rick Kasper. "We have done that by responding to the needs of our customers for safety, utility, versatility and performance in environmentally friendly vehicles." GEM cars are available in six models: two-, four- and six-passenger cars and three utility vehicles. GEM neighborhood electric vehicles have a top speed of 25 miles per hour, a range of up to 30 miles per charge (battery charge is extended through use of regenerative braking) and are street legal in more than 40 states. The vehicles can be recharged anytime, anywhere with a standard 110-volt outlet. Recharge time is approximately six to eight hours. By replacing conventional vehicles, GEM vehicles can reduce overall emissions of pollutants, particularly during short trips when conventional vehicles create the most tailpipe emissions. GEM vehicles have been driven a combined 200 million miles and averted more than 150 tons of pollutants from reaching the air, while saving 10 million gallons of gasoline. About Global Electric Motorcars Global Electric Motorcars LLC assembles and markets neighborhood electric vehicles. The 10-year-old company is based in Fargo, N.D. For more information about the company and GEM vehicles, to build your own GEM or to locate a dealer, visit www.greenecomobility.com, or find out more about the Peapod at www.greenecomobility.com/peapod.
[Chrysler]