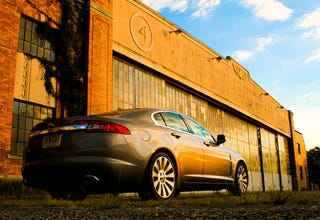 Why you should buy the 2009 Jaguar XF:
The Jerries killed one of your uncles, the Japs the other, the Yanks came into the war too late and now you're shopping for a mid-size luxury sedan. You've seen one too many episodes of The Professionals. Your wife has the complete set of Golden Jubilee china. You're a dentist living in Miami and since your Lehman brothers stock is now worthless you can't quite stretch to an XJ. You want a fast luxury car, but think speed kills.

Why you shouldn't buy this car:
You want a car that's equally capable of cosseting your bottom and lapping a racetrack. You're not prepared to purchase an uncompetitive car just because it's got a kitty on the grille. You never really liked the Chrysler LHS and Dodge Intrepid anyways.
Suitability Parameters:
Speed Merchants: No Fashion Victims: No Treehuggers: No Mack Daddies: No Tuner Crowd: No Hairdressers: No Penny Pinchers: No Euro Snobs: Yes Working Stiffs: No Technogeeks: Yes Poseurs: No Soccer Moms: No Nascar Dads: No Golfing Grandparents: Yes Very Serious Businessmen: Yes Sheiklets: No
Also Consider:
• BMW 5-Series • Mercedes E-Class • Audi A6 • Lexus GS • Infiniti G35 • Rover SD1
Vitals:
• Manufacturer: Jaguar • Model year: 2009 • Base Price: $49,975 • Price as Tested: $55,975 • Engine type: 4.2-liter DOHC V8 • Horsepower: 300 @ 6000 RPM • Torque: 310 @ 4100 RPM • Transmission: 6-Speed Automatic • Curb Weight: 4,017 LB • LxWxH: 195.3" x 80.8" x 57.5 • Wheelbase: 114.5" • Tires: 245/40 19 • 0-60: 6.2 secs • Top speed: 121 MPH (limited) • 1/4 mile: N/A • EPA Fuel economy city/highway: 16/25 MPG • NHTSA crash test rating: N/A
Photo Credit: Dean Chandler / Ray Wert
Also See:
•
2009 Jaguar XF, Part One
•
2009 Jaguar XF, Part Two