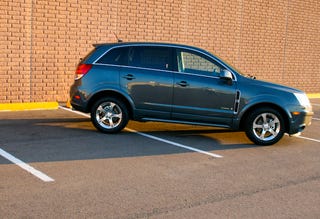 Why you should buy the 2008 Saturn Vue Green Line Hybrid:
You want a hybrid but you do more highway driving than city driving. You need more room than a Prius offers but you don't want to spend the money for an Escape Hybrid. You want an SUV that gets 32 MPG on the highway and you don't really care how it does it. You want a hybrid but you won't pay MSRP.
Why you shouldn't buy this car:
Spirited driving is something you enjoy. You've ever chanted "drill, baby, drill." You like the idea of cruising silently in a giant golf cart. Creature comforts and a smooth ride are more important to you than fuel efficiency.
Suitability Parameters:
Speed Merchants: No Fashion Victims: No Treehuggers: Yes Mack Daddies: No Tuner Crowd: No Hairdressers: No Penny Pinchers: Yes Euro Snobs: No Working Stiffs: No Technogeeks: No Poseurs: No Soccer Moms: Yes Nascar Dads: No Golfing Grandparents: Yes Very Serious Businessmen: No Sheiklets: No
Also Consider:
• Ford Escape Hybrid • Toyota Prius • Non-hybrid Saturn Vue XE • Chevy Malibu Hybrid • A 1994 Geo Metro
Vitals:
• Manufacturer: Saturn • Model year: 2008 • Base Price: $24,170 • Price as Tested: $25,720 • Engine type: 2.4-liter inline four cylinder • Horsepower: 172 @ 6200 RPM • Torque: 167 @ 5100 RPM • Transmission: 4-Speed Automatic • Curb Weight: 3789 LB • LxWxH: 180.1" x 72.8" x 66.2 • Wheelbase: 106.6" • Tires: 225/60R-17 low-rolling-resistance • 0-60 mph: N/A • 1/4 mile: N/A • Top speed: N/A • EPA Fuel economy city/highway: 25/32 MPG • NHTSA crash test rating: Frontal: **** driver, *****passenger; Side: ***** f/r
Also See:
•
2008 Saturn Vue Green Line Hybrid, Part One
•
2008 Saturn Vue Green Line Hybrid, Part Two