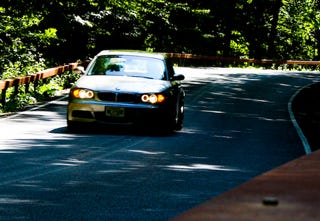 Why you should buy the 2009 BMW 135i:
You like the idea of a driver's car, but you don't really like driving that much. You heard the 135i was
the
car to drive this fall. You're a life-long BMW fan and you have a penchant for blinders. You're a badge snob. You're all of the above and you really don't have an eye for a deal.
Why you shouldn't buy this car:
You want a four-seat coupe that drives like a sports car. You have a collection of old BMWs and want the modern equivalent to use as a daily driver. You're one ticket away from losing your license. Your garage floor is only rated to hold 3383 LB. You're spending your own money.
Suitability Parameters:
Speed Merchants: No Fashion Victims: Yes Treehuggers: No Mack Daddies: No Tuner Crowd: Yes Hairdressers: Yes Penny Pinchers: No Euro Snobs: Yes Working Stiffs: No Technogeeks: No Poseurs: No Soccer Moms: No Nascar Dads: No Golfing Grandparents: No Very Serious Businessmen: No Sheiklets: No
Also Consider:
• 2009 Subaru WRX • E46 BMW M3 • E39 BMW M5 • 2009 Chevy Corvette • 996 Porsche 911 • Lotus Elise SC and packing lightly • 1990 BMW 325is w/springs and dampers; Yokohama AVS Intermediates; K&N filter; chip; exhaust; rebuilt engine and gearbox; $36,000 in your pocket.
Vitals:
• Manufacturer: BMW • Model year: 2009 • Base Price: $35,600 • Price as Tested: $46,945 • Engine type: 3.0-liter twin-turbo inline-six • Horsepower: 300 @ 5800 RPM • Torque: 300 @ 1400-5000 RPM • Transmission: 6-Speed Automatic • Curb Weight: 3384 LB • LxWxH: 171.7" x 68.8" x 55.4 • Wheelbase: 104.7" • Tires: 205/50R-17 / 225/45R-17 • 0 - 60 mph: 5.2 seconds • Top Speed: 150 MPH • 1/4 Mile: 13.6 seconds @102 MPH • EPA Fuel economy city/highway: 17/25 MPG • NHTSA crash test rating: TBA
Also See:
•
2009 BMW 135i, Part One
•
2009 BMW 135i, Part Two