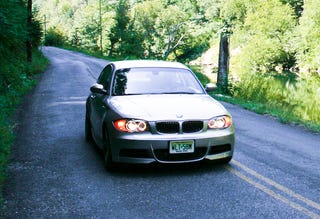 Exterior Design: ****
Easily the best-looking Bangle BMW, the
2009 BMW 135i
excels in proportion, if not in detail. Straight from the front, there's little indication of the 135i's purpose, but from there back it's classic BMW two-door updated for the 21st century.
Interior Design:***
Restraint and simplicity do the 135i's interior many favors. Still, it would have been nice to see an even simpler approach taken without sacrificing the quality. Leather-clad Recaro sport seats would have been a good starting point. The 1-series European economy car roots show in the cheap secondary plastics used on the center console and dash. Not something we'd want in a $46,000 car.
Acceleration: *****
The twin-turbo 3.0-liter inline-six is the pick of BMW's range, providing its bigger, heavier cars with ample acceleration. Here, it's ridiculously fast for a non-M car, and much, much torquier too. You can pretty much leave the gearbox in third for any serious driving, using the low-down grunt to carry you out of corners and the high-end rush to blast you down straights.
Braking: ****
Excellent both in town and at higher speeds, we couldn't provoke any fade, which is not something we can say of most Bimmers.
Ride:***
Firm but controlled, just like a European performance car should be.
Handling: **
As a BMW fan, it hurts me to do this, but I'm knocking a star off for failing to live up to expectations. The BMW is a three-star handler when you want it to merit five stars. Sure it's rear wheel drive, sure it's got firm springs and dampers, but when pushed, it doesn't communicate with nor involve the driver to the degree a true sports car should. It's still fast, but beyond the sensation of speed, it's just not fun or rewarding to drive.
Gearbox: ***
We've driven 135is with both manual and automatic transmissions. This time around we got lumped with an autobox. At normal speeds it's fine, if unremarkable. At higher speeds it's too keen to upshift, meaning planting the throttle results in several seconds of downshifting delay before the acceleration you want is achieved. Overriding the system with BMW's frustrating paddle system results in reasonably fast shifts, but since both paddles go forward and back, you'll be pushing one or the other the wrong way if you try to shift in a hurry. Luckily, you don't need to shift much in the 135i, so by just selecting third gear, then getting on with driving, you don't have to deal with the gearbox at all.
Audio: ****
Ours came with the optional $400 iPod adapter, $2100 iDrive Navigation and $595 Sirius radio. It sounded great and connected easily to an iPhone, which was also easy to control via iDrive. Sirius is also our preference over the more-common XM. We wouldn't want to pay for these options ourselves though; the inline-six soundtrack is all we need.
Toys: ****
If you've used any previous generation of iDrive, you'll be amazed by how simple and intuitive it is to use now. The best car-based human/machine interface on the market, it provides easy, eyes-free access to the decent navigation system and all the secondary functions.
Value: *
If the 135i handled, we'd be giving it at least three stars for value. But it doesn't. So instead of a driver's car, you're paying $35,600 (base) for a car with compromised packaging. The $46,945 as-tested-here price is absolutely scandalous and leaves us wondering why anyone would spend this kind of money on a 1-series. The
2009 Subaru WRX
starts at just $24,850, has real driver involvement, similar performance numbers and in hatchback form, real practicality. We couldn't justify a 135i for ten grand more, but especially not for 20 grand more. In case you're wondering, our car was equipped with $500 metallic paint, $600 cold weather package (heated seats and a ski bag), $3,400 Premium Package (power seats and some fancy, but irrelevant doodads), $1,200 Sport Package (Sports seats and thicker steering wheel + paddles), $1,325 automatic transmission, $2,100 navigation system (iDrive), $400 iPod adapter, $595 Sirius radio, $350 rear parking radar and an $825 destination and handling fee. Sure, we'd eliminate most of that if we were spending our own money (which we wouldn't), but the 135i is still damn expensive.
Overall: **
A nice little car that's insanely overpriced, sacrifices practicality and space for a longitudinal inline-six and rear wheel drive, which it then fails to take advantage of to become a real driver's car. Great engine though. Also see: •
2009 BMW 135i, Part One