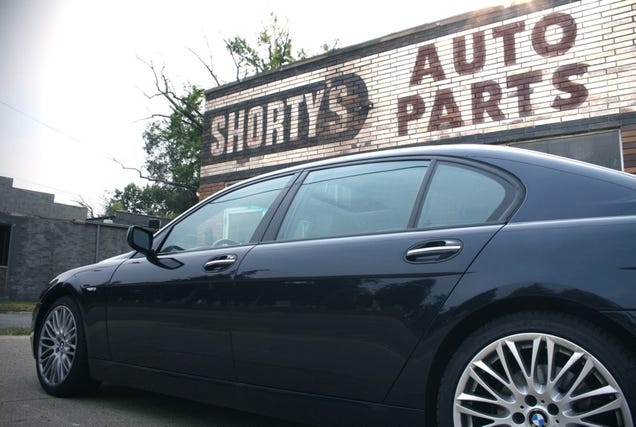 Why you should buy the 2008 BMW 750Li:
You're a pop star, Eastern European mobster, an NBA player or a 40-year-old lawyer that hits on college girls. You want a status symbol. You have no idea what an
E38
is.
Why you shouldn't buy this car:
The only thing you use your computer for is checking your e-mail. You have a bad hip. You signed the "Fire Chris Bangle" petition. You loved your old E38.
Suitability Parameters:
Speed Merchants: No Fashion Victims: Yes Treehuggers: No Mack Daddies: Yes Tuner Crowd: No Hairdressers: No Penny Pinchers: No Euro Snobs: Yes Working Stiffs: No Technogeeks: Yes Poseurs: Yes Soccer Moms: No Nascar Dads: No Golfing Grandparents: No Very Serious Businessmen: Yes Sheiklets: Yes
Also Consider:
• Audi A8 • Mercedes S-Class • Lexus LS600h L • Jaguar XJ • 2001 BMW 740i Sport • a used Bentley Arnage and a good mechanic • Soviet-era ZIL Limo
Vitals:
• Manufacturer: BMW • Model year: 2008 • Base Price: $78,900 • Price as Tested: $93,470 • Engine type: 4.8-liter DOHC 32-valve V8 • Horsepower: 360 @ 6,300 RPM • Torque: 360 @ 3,400 RPM • Transmission: 6-speed Automatic • Curb Weight: 4552lbs • LxWxH: 203.9" x 74.9" x 58.4" • Wheelbase: 123.2" • 0 - 60 mph: 5.8 seconds • EPA Fuel economy city/highway: 15/23 MPG • NHTSA crash test rating: N/A
Also See:
•
2008 BMW 750Li, Part One
•
2008 BMW 750Li, Part Two