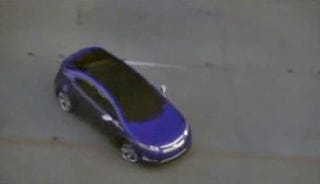 The
video
and
images
of a Chevy Volt on the set of
Transformers: Revenge Of The Fallen
showed a car very similar to the Volt that GM has been
lifting the skirt on
. But now GM is saying the dark-blue car is "not the final version at this stage." GM spokesman Rob Peterson told
Inside Line
that it is "representative of the production vehicle,"
which makes sense as we've now learned that this prop is just a re-bodied Malibu.
Though it should be noted that he wasn't even aware the car was out in California on the movie set.
"I've never seen that vehicle and I've never seen that color... You can tell it caught me off guard. I didn't even realize it (the Volt) was out of the state of Michigan."
Jalopnik Snap Judgment:
Of course this isn't
exactly
what the production Volt will look like. The production model likely won't have the big showoff rims, and perhaps some of the badges on the movie prop are slightly oversized for the camera. It's probably just minor stuff that will change from the styling of this car to the one you'll see in showrooms — the basic shape should be here to stay. [
Inside Line
,
AutoblogGreen
]