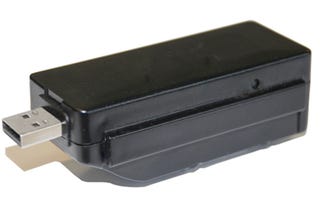 Stalkers
Parents have just gained a potent new weapon in their electronic babysitting arsenal, or at least a new outlet at which to purchase it. Your local NAPA auto parts store will soon be stocking the GPS Tracking Key, a cell-phone sized, battery-powered GPS tracking device with a built-in data recorder. Just use the convenient magnetic base to attach the Tracking Key to the vehicle in question, allow the unsuspecting driver to hit the road, then retrieve the device upon his or her return. The trip data can then be downloaded and overlaid with maps, satellite data and text information, including distance traveled, speeds achieved, the addresses where stops were made, and the duration of the stops.
Jalopnik Snap Judgment:
Just because something
can
be built does not mean it
should
be built. While we're sure there are some noble uses for this product, we can't think of any. It's built for spying and stalking, and as such will be used almost exclusively to foster distrust and paranoia among families, lovers and employees. Think about it: What's the most conniving, illicit way you can come up with to use the GPS Tracking Key? Drop your filthy ideas into the comments and enjoy the full press release below.
NAPA Dealers Add GPS Tracking Key to Their Automotive Product Line CARY, Ill., Sept. 2 — LandAirSea Systems, Inc. has announced that they have begun distributing the increasingly popular GPS Tracking Key to NAPA automotive dealers across the country. NAPA has been a long time supplier of replacement parts, accessories and service items to the automotive repair industry and they are confident that the Tracking Key will be a profitable addition to their inventory. About the Tracking Key: The award winning GPS Tracking Key is a small, pocket sized device that receives signals from the twenty-four Department of Defense satellites orbiting the earth. Its internal computer determines the GPS location of a vehicle and records detailed travel activities such as times of departure, routes traveled, speed of vehicle and duration of stops. The recorded data can then be displayed with Google Earth(R) over a street map, satellite images or in a text report. Among the growing list of consumers for this device are parents of teenage drivers who have found it to be a helpful tool in keeping track of their teens' whereabouts. By making the GPS Tracking Key available to its customers, NAPA is hoping to attract this most recent category of buyer. About NAPA The National Automotive Parts Association (NAPA) was founded over 80 years ago to meet America's growing need for a national auto parts distribution system. They are a retailer's cooperative which distributes parts and equipment to both corporately and independently owned auto parts stores. Today, NAPA oversees 6,000 auto parts stores, 69 distribution centers, 13,000 affiliated NAPA auto care repair facilities and over 320,000 parts in inventory every day. With the advent of 21st century sophistication, the automotive industry and its affiliates have become increasingly complex, their product line expanding to include more than the basic nuts and bolts. The GPS Tracking Key, though unimpressive in size and appearance, is destined to become a standard feature in vehicles nationwide, as more and more consumers become dependent upon its wide range of capabilities. "The Tracking Key has been proven in the GPS tracking industry to be one of the best devices in the world for passive GPS tracking. It is a very powerful, affordable and extremely easy to use device," said Rob Wagner, CEO of LandAirSea Systems, Inc. About LandAirSea: Currently headquartered in Cary, Illinois, LandAirSea plays host to the world's most powerfully engineered GPS tracking equipment. With several varieties of GPS tracking systems in operation across the globe, LandAirSea has become an industry leading provider of effective, affordable tracking solutions for thousands of civilians as well as a multitude of government and law enforcement agencies. For more information, please visit http://www.landairsea.com.
[
GPSTrackingKey.com
]