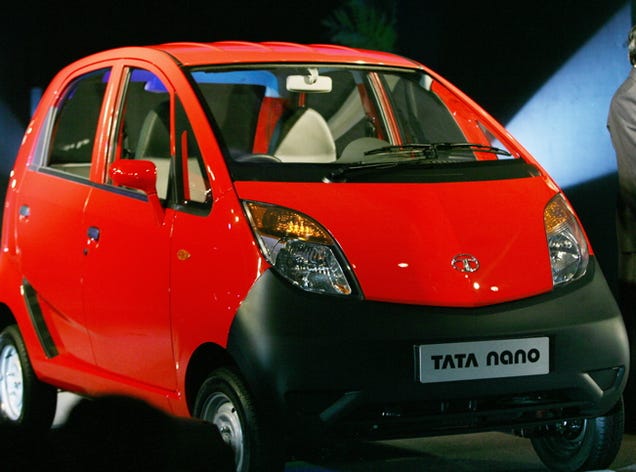 The Indian Transport Ministry estimates that the number of fatalities from road accidents could climb 50% to 150,000 a year by 2015 due to the rapid growth of vehicle ownership in the country. The World Bank estimates that at current levels (100,000 per year), India's mortality rate is 14 for every 10,000 vehicles — seven times that of the developed world. Annual passenger vehicle sales in India are expected to reach two million units by 2010, double the current number, largely thanks to the massive increase in the number of affordable vehicles. The
Tata Nano
— at $2,500, the world's cheapest new car — will make up a quarter of that increase alone; 250,000 of them will be built per year.
Lax safety and licensing standards and an insufficient infrastructure, combined with heavy and varied traffic (cars share the roads with trucks, rickshaws, motorcycles, mopeds, animals, pedestrians, vendors, carts and bicyclists) are largely to blame for India's high rate of accidents. But the biggest killer is thought to be the huge numbers of new vehicles and new drivers flooding India's roads. The already massively overcrowded thoroughfares are being pushed to the breaking point, literally. It's a problem shared by other developing nations: The World Bank estimates that by 2020, the number of people killed by car accidents globally will increase from 1.2 to 2 million. India plans to spend $500 billion over the next five years to repair and upgrade its transportation infrastructure, reports
Business 24-7
, but much of that will be spent on airports and seaports rather than on roads, and what money does reach them is largely expected to be lost to corruption and mismanagement. 90% of India's passenger traffic and 65% of its freight travel by road.
Business 24-7
goes on to report that, "loopholes in the system put licenses in the hands of those ill equipped to drive, there is also a general apathy among consumers towards seat belts, air bags and even motorcycle helmets." Hormazd Sorabjee, the Editor of
Autocar
India says, "Safety is unfortunately not a big part of the purchase decision of Indian consumers. Our best-selling small cars are typically not the safest vehicles on the road because consumers are more worried about fuel efficiency and the cost of ownership, and would rather not pay for safety features such as air bags and anti-lock brakes." The Tata Nano, for instance, doesn't include airbags, antilock brakes or side-impact beams in its $2,500 price, but does claim to have passed the required frontal and side impact tests. To counteract the increased accident and mortality rates, vehicle manufacturers are setting up their own driver training schools. "We do believe the need for training is becoming increasingly relevant due to the increase in vehicle volumes, high speed roads, enhanced performance of vehicles, and the requirement of specific skills for application on vehicles," says Debasis Ray, head of corporate communications at Tata. [
Business 24-7
via
Bikes In The Fast Lane
]