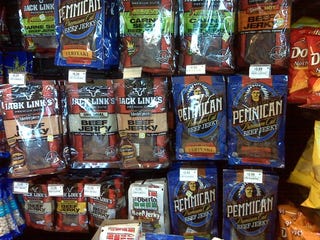 As one noted member of the auto press guild told me today, "you can't have a Mustang road trip without beef jerky." He's right. I went with the Carne Asade — what about you? Although I pulled over for the jerky, it was nice to give my ass a moment of relief from the pains of the road. The Shelby GT500KR's got a helluva lot of horsepower, but no padding's going to protect your rear for long in that car's seat. And I thought the Z06 was a pain in the rear. But, whatever, who cares? You don't buy this car and all its horses for the benefit of your seat bottom. By the way, L.A. traffic really sucks. It took me over three hours to make it outside the mess of traffic that is the greater Los Angeles area. Looks like we'll be running straight through to Vegas tonight. But fear not, we'll head down to Death Valley tomorrow morning — and do a run from one end to the other and back. I'll check in again when I get to Las Vegas, baby, Vegas.
Location:
Barstow, CA
Miles:
118.3 Miles
Drive Time:
3 Hours, 59 Minutes (I hate LA traffic)
Follow along at our tag page for our full three-day Shelby GT500KR Road Trip.