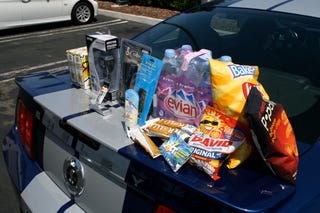 Well, we're about to
take off
on our
Shelby GT500KR Road Trip
outside of Los Angeles and we decided we needed to stock up on supplies first. We've got what we're bringing for the trip below the jump. Let us know if we forgot anything. Remember, we need to make it through Death Valley — a place we've never been to, but Brenda Priddy says is a comfortable place to hang out — all the way to Vegas and then down through Phoenix to Dallas. Obviously we'll be stopping for food and sleep. Who do you think we are,
Alex Roy
* ?
1 - Cobra XRS 9540 (The Valentine's too rich for our blood) 6 - 1-liter bottles of water 4 - Cans, Rockstar 3 - Packages, Jolt Gum 2 - AAAA batteries for cheap-ass Jabra headset 2 - Bags, chips 1 - Bottle, sunblock 1 - Package, David Sunflower seeds 1 - 100-Watt Power Inverter 1 - Sprint EV-DO card (or whatever the hell their proprietary technology is) 1 - Full tank of gas See ya guys outside of Death Valley. Somebody call the police if you haven't heard back from us by like, midnight tonight, k?
*Name of Alex Roy used under trademark and copyright, all rights reserved.