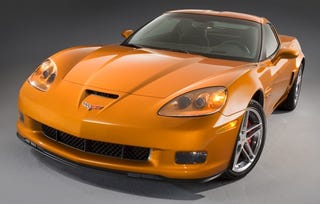 GM's recent decision to re-offer
employee pricing on all new vehicles
brings the 505 HP Corvette Z06 down to an astonishing base price of $62,653. Normally, these type of incentives don't include high horsepower and halo cars, but according to the boys at
Kicking Tires
, GM will include both the 2008 Corvette and the Chevy's up-powered big brother, the 2008
Corvette Z06
, in their current deal. No matter how glowing of a
review Wes
gave it, with that heavy of a discount you'll maybe want to think twice about spending the money on the new
2009 Corvette ZR1
.
The 638 HP 2009 Corvette ZR1's price of $103,000 (let's pretend for a moment vagaries such as
dealer
markup
don't exist) has a cost per HP of $162. While not the best deal on price per HP, it's still a steal. But this pricing on the 2008 Corvette Z06 brings the cost per HP war to a whole new level — dropping the already amazingly value-rrific cost per HP down from $143 (already lower than the Nissan GT-R and Dodge Viper according to our official
Jalopnik
"By The Numbers" comparison chart
) to the staggeringly bargain level of $124 per HP! The Z06 was already the over-used "value champ," (We need a quarter jar for every time we're using the word value in this post, don't we?) but this new deal truly offers the chance to bring high horsepower to the masses. There's simply no better deal out there. Even
Suze Orman
would approve.