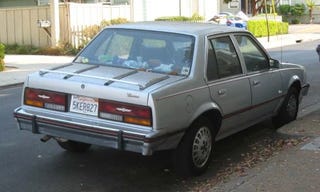 Welcome to
Down On The Street
, where we admire old vehicles found parked on the streets of the Island That Rust Forgot: Alameda, California. With all the cool cars and trucks we've seen in this series, it may come as a shock to some that the first-ever DOTS car- that is, the first use of "Down On The Street" as the name- was
this Cadillac Cimarron d'Oro
, shot with a seriously crappy cellphone camera. Since that time, I've been packing better photographic hardware and keeping an eye open for another Cimarron… and now I've got one!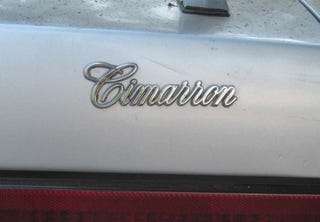 What's the difference between the '85 Chevy Cavalier and the '85 Cadillac Cimarron? Some emblems, some leather… oh, and an extra $7,045-
more than twice the cost
of the $6,477 Cavalier (though the $560 cost of the optional V6 pushed the Chevy's price up to just about exactly half that of the Cad). The General's management, already reeling from relentless Japanese competition, the Fiero fiasco, and a bad case of Cerebral Screw-Worms, figured they'd better hunker down and go back to building cars for the over-80 set until the Catera was ready to zig Cadillac back to solvency.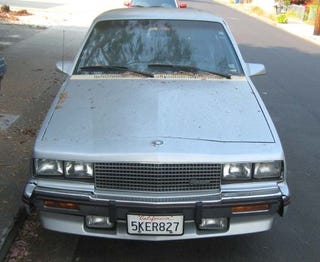 This example is quite rough, partly due to a lot of hard miles and partly due to GM's legendary 80s build quality. Say what you will, but this car still gets from A to B when called upon.