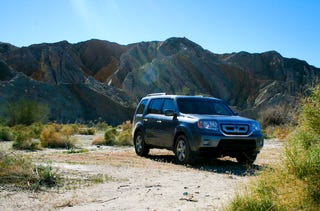 Exterior Design:***

The 2009 Honda Pilot nicely embodies traditional SUV themes in a package that looks more compact than it actually is and manages to convey an approachability and friendliness lacking in its competitors. Shame it's just a little boring.



Interior Design:****

Everything a family needs and more laid out in an intuitive but very buttony way. Plenty of space for eight, although full-size adults may not jump at the opportunity to spend time in the way back, with the middle row pulled forward, they'll fit just fine. The trunk is cleverly configured, offering below-floor storage for wet and dirty stuff and a cargo shelf for items that need to remain easily accessible. With the seats folded down completely flat, there's room for a stack of full-sized plywood sheets to lay completely flat.