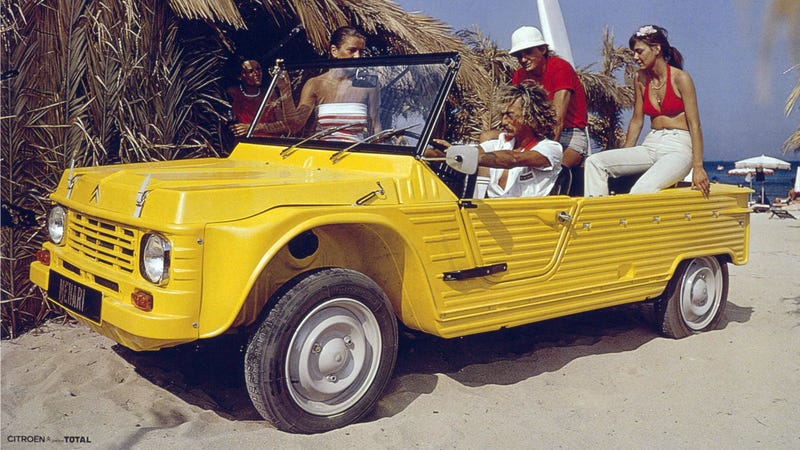 Citroën's funky little off-roader celebrates its 45th birthday this week, and while this picture says it all, it's worth to look at the fun side of this rolling deathtrap we would all love to have.
Fun facts about the Citroën Méhari:
1: You need not less than two special characters to write down its name properly.
2: Still, at its launch in 1968, its full name was Diane 6 Méhari.
3: It had ABS, but that stood for Acrylonitrile butadiene styrene, the material used for the body panels.
4: Two beige paints were offered. Beige Kalahari until 1977, Beige Hoggar onwards.
5: Still, you want it in Vert Tibesti.
6: Orange Kirghiz was also awesome.
7: The guy who created it was called Roland de La Poype. Apparently, he was a fighter ace during World War II.
8: It uses a tubular frame, just like a Countach.
9: The Méhari Azur was produced in white with blue doors, grille, canvas roof and headlamp surrounds, plus white and blue striped seats. That late version is the rarest.
10: The only color remaining in production for the entire run was the dark green Vert Montana.
11: It was a medical vehicle at the 1980 Paris-Dakar Rally. Oh boy.
12: Brave chaps entered the Liége-Dakar-Liège rally in 1969, the Paris-Kabul-Paris rally in 1970 and the Paris-Persepolis-Paris rally in 1971 with Méharis.
13: They did not win.
14: The French army put 24V electrical system in them, and threw Méharis off airplanes for combat duty.
15: The Méhari name comes from the toughest sahara camels out there.
16: They sold more than 150,000.
17: The Renault Rodeo had nothing on the Méhari.
18: The suspension came from the Citroën 2CV, the Rolls-Royce of French peasants.
19: It weights 1,300 pounds. Much less than my Autobianchi A112.