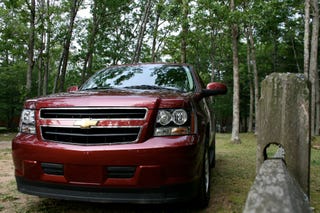 Exterior Design: **
Whether you love or hate big SUVs, the 2008 Chevy Tahoe Hybrid sports monolithic good looks compared to others in the category. Body-color trim, molded-in side steps, and the hybrid-specific front air dam add to handsome proportions. If you're trying to be subtle, though, look elsewhere: The Tahoe Hybrid shouts its greenness from every surface, using emblems, logos, and tape stripes to tell the world you're doing your part for global warming...wait, against global warming. What exactly DOES this thing say? Oh yeah, Hybrid. Everywhere. We'd like to give this beast four stars here, but we'll subtract one for huge "HYBRID" logos on each side.

Interior Design: ***
Good God it's wide in here. The expanse of dash and the far proximity of our passenger reminds us of a friend's '68 Chrysler Newport, albeit jacked up a few feet. Everything is where you expect it to be, though, with storage and power options just about everywhere you look...except under the second-row bench, which is where the battery pack lives. The leather-swaddled seats were comfortable for hours on end, and the clear lines of sight made the huge Tahoe easier to drive.