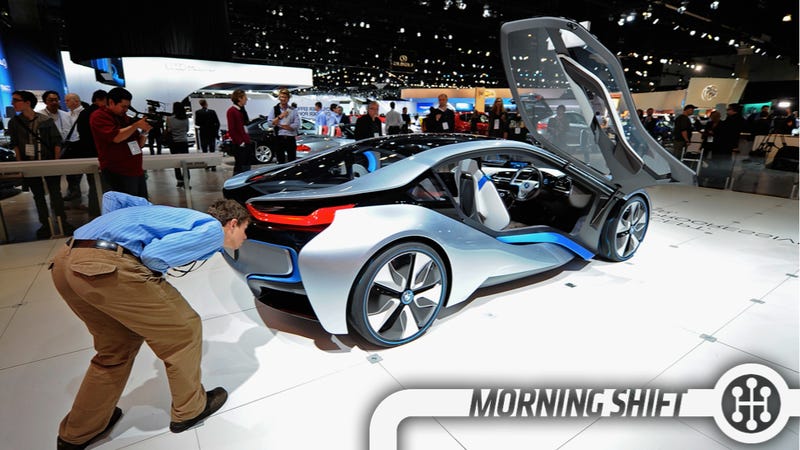 This is The Morning Shift, our one-stop daily roundup of all the auto news that's actually important — all in one place at 9:00 AM. Or, you could spend all day waiting for other sites to parse it out to you one story at a time. Isn't your time more important?
1st Gear: California Loves Electric Cars
Where do they sell the most electric cars? More than a third get registered in Los Angeles and San Francisco, with Seattle, Atlanta, and New York following behind says new data released by Polk and written up by The Detroit News.
The article quotes people who say that Californians are green, forward-thinking people who like new technology. Of course, that's all true, but there's a bigger reason why California is the biggest (and only) market for EVs: The government mandates it.
He said GM targeted those states for four reasons: charging infrastructure, a reputation for being early adopters, financial and carpool incentives and because a certain number of zero-emission vehicles are mandated.

California's zero-emission vehicle requirement says that 15.4 percent of automakers' vehicles sold in the state be powered by electric, hybrid or fuel cells by 2025 or they will face penalties. Oregon follows California's mandate.
So that's kind of an issue, although I don't doubt CA would still be a leader in buying EVs without the mandate, I just sort of think there would be fewer EVs to buy.
2nd Gear: Hell, They're Running Out Of Regular Old Gas Cars
The cycle of overproduction that preceded the Carpocalypse is still on the mind of automakers everywhere (especially ones who sell cars in Europe), so you can't blame them for toeing into this expanding market.
Unfortunately, this means you can't just walk into any dealership and get exactly the car you want as The Wall Street Journal reports.
The cars people seem to want are:
Impalas, Odysseys, Subaru Foresters, Jeep Grand Cherokees, Nissan Sentras, and Ford Fusions. There's also a Corolla supply problem, but this seems to be a result of Toyota winding down production of the old model in advance of the new one.
3rd Gear: Europe Getting A Polar Jeep
Everyone loves a special edition Jeep, and the Brits are no exception, which is why they're launching a special "Polar" edition Jeep Wrangler in celebration of winter driving.
While not exactly outfitted for real polar conditions, the vehicle does take a dip into the Mopar catalog for a Trac-Lok limited-slip rear diff, body-color hard top, a new grille, tough accents, and Hydro-Blue paint.
It also gets a Polar badge with the coordinates for Vostok in Antarctica, home to the severest weather on the planet.
Because this is Europe, it also gets the 2.8-liter CRD diesel that we so badly want with the option of the 3.6-liter gas V6.
More in the press release here.