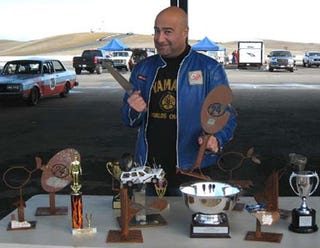 Loverman: How did the 24 Hours of LeMons start?
Jay Lamm: Basically, with way too much beer and chinese food. We'd been doing this road-rally thing called the Double 500, a 500-kilometer road rally for $500 cars, for years. I came up with the general idea for the Double 500 one day after the California MIlle, while I was taunting Martin Swig that it was too easy for the Mille guys to just solve all their mechanical problems with a check wrench. I was pretty much just busting his chops, but Martin isn't one to take that lying down. He called my bluff, and actually wound up organizing and hosting the Double 500 as a street rally. Anyway, a few years later, a bunch of us SF car guys were sitting around at our regular Saturday lunch one day, and we all kind of agreed that the Double 500 had gotten too easy...
There were really great $500 cars everywhere, and just about any of them could make it 500 kilometers. So I just figured a 24-hour race on a track was the next level of difficulty.

In retrospect, adding the racetrack and the 24-hour duration was my way of guaranteeing that you'd have more of those panicky, hilarious mechanical crises that make vintage rallies and vintage racing so much fun. (You know, fun for the other people who are watching you suffer....)
Loverman: What took you so long to think it up?
Jay Lamm: The waitress was slow with the refills.
Loverman: I didn't read your answer to the first question. Where did the $500 limit come from? Like why not $250, or $1,000? Or $5,000?
Jay Lamm: It just seemed like the right number, really. Martin was originally lobbying for $1000 before the first Double 500, but I really felt that would be way too easy, which it basically turned out to be. And I kept thinking back to my $500 Porsche 928S, which was the greatest $500 car of all time. (If I still had that thing I would've RULED Thunderhill.)