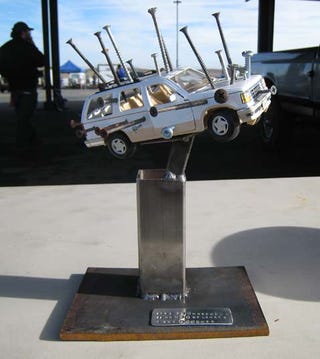 Among the many cool things that set the 24 Hours of LeMons apart from the more boring forms of motorsports is the stuff that goes to the winners. In addition to back-breaking sacks of nickels, beautiful handmade trophies are handed out to the teams who triumph in their classes. So, after you check out the official list of winners, jump like a Datsun B210 and check out some of the highlights!




Receiving the coveted I Got Screwed trophy is that dice-throwing bunch from Las Vegas...



Team Sin City Lemons! The 302 in this LeMons-veteran LTD Crown Victoria threw a rod, like, 17 seconds into the race; team members then made a deal with a not-so-nearby auto-parts store for a rebuilt long block of complicated heritage and thrashed like crazy for hour after grueling hour... only to find that the unobtainable-on-Sunday harmonic balancer was cracked. They'll be back, though, and we'll give you a jackpot of photos of their efforts very soon.



There's not much suspense surrounding the Heroic Fix trophy- we all knew it would be placed in the bleeding paws of...



Team Dirty Drifters, whose Corolla's engine got all rod-knocky during practice the night before the race. Not letting this little setback stop them, they drove 350 miles round-trip to pick up a junkyard 3TC, then spun wrenches all night in rainy 37-degree weather. Race-day morning, the engine was in and running, and the team went on to finish in the #20 spot.