Volkswagen Audi Group can feel a bit slighted not to be the first port of call on the Essen show, but even a four-wheel drive, 300 hp battle wagon can't make a huge impression in this company. Still, the Passat R36 is a serious piece of kit in its own right, and should be an enticing alternative for those who want the performance but not the price premium that goes with Audi S4 ownership. It's a near-perfect Q car, especially in Touring form. Only the deep airdams, dinner-plate brake discs and mildly revised aero kit give away the violence held within. There are faster cars in the world, but no faster VW, this one will hit 60mph in 5.6s and go on to the standard 155mph top end.

Audi bought the 3.2-litre TT Roadster, as well as taking the R8 on its world tour, and a second look at the most eagerly anticipated supercar for many a year reveals an "unresolved" front end, as the clever mags like to call it.
It would have only taken carbon-fiber swords, optional extras on the rest of the lineup, to turn the R8 into a butch monster. The cheap matte-black numbers under those evil daytime running lights ruin the entire face of the car, though. It's like a beautiful girl with a thick mustache — you can't help staring at this massive flaw. If you've ordered one, please take note.
Annoyingly for Audi, the Abt TT-R next door looked an even more radical achievement, with duel-fuel and 355bhp — and that's not bad. There are no electric motors here, it's a combined petrol and LP-gas unit that falls under Abt's rather glamorous sounding iF-technology. This increases its range by up to 250 miles, apparently, and Abt claims no discernible difference in performance between the modes.
As well as the carbon-fiber bonnet, bodykit and interior trim that tip the relatively androgynous new TT shape into pure masculinity. No longer is the TT a "girl's car," especially with the vicious supercharger kit installed that should push the chassis to the limits of its almighty potential. The new 0-60mph time of 5.1s is far from shabby, too.
Back in the tuned throng, Mansory's on a mission to offend with a Continental GT Widebody so garish in full black-and-orange people actually plucked out their eyes to avoid staring in the face of pure evil. Actually they didn't, they just left in a bewildered, confused state.
But before dismissing it as dog vomit on wheels, check out the lines. If the car was all black, it would look pretty damned fine. The deep front spoiler, wild extended flanks and that rear wing provide a level of muscularity that would make the folks at Crewe a little hot under the collar. And the power hike will do the same to the driver, as Mansory's tinkering under the bonnet produces more than 630bhp of projectile force that helps the GT storm to 60mph in 4.5s and all the way up to 203mph. – Nick Hall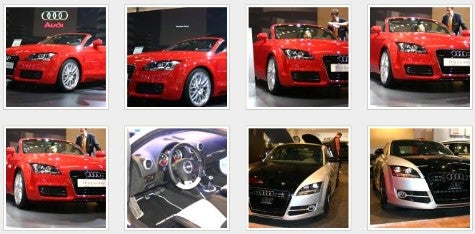 Related:
Car Hack's Notebook: Reporting on Porsches from the Essen Show [internal]