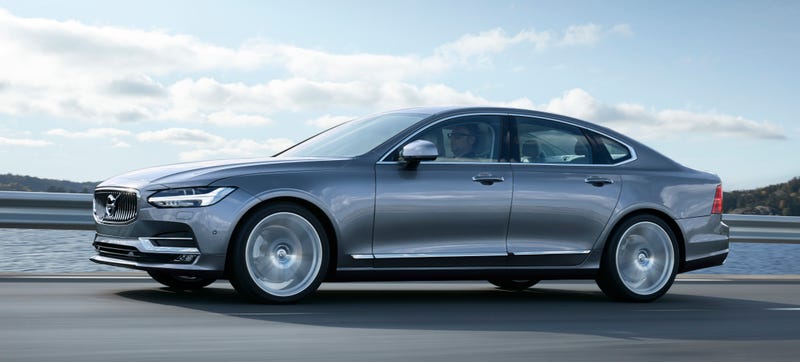 This is the new 2017 Volvo S90, packing a 407 horsepower hybrid drivetrain, the Pilot Assist semi-autonomous drive system upgraded to work at up to 80 mph, the anti-kangaroo tech they call City Safety and a huge tablet in the middle with Apple CarPlay (or Android, if you're one of those people) and a bunch of cloud-based applications. It's everything we love in the Volvo XC90, just more car-ish, yet still plenty of Swede-ish.
What we saw earlier as a Chinese scale model is finally here in full size, and while the S90's public reveal will be at the Detroit Auto Show in January with online sales starting soon after, but while you're probably chomping at the bit to get just a taste of that hot, hot December-in-Sweden action, it's best to know the details, first.
Simply put, the S90 looks like a slightly toned down four-door version of 2013's stunning Volvo Concept Coupé, and that can only be a good thing. You certainly won't find anything like it on the road today, especially looking at the rear since the grill and those signature headlights should be quite familiar by now from the XC90.
Size wise, it's 4960mm long with a 2940mm wheelbase and a width of 1890mm. All of those measurements are pretty much meaningless, as they're in the silly European system which a bunch of people in France just made up one day, but it's roughly the size of a BMW 5 Series.
Volvo previously assured us that the company's vanilla styling days were "over." Nordic humor is, however, a very funny thing, from the looks of that butt. It's definitely not vanilla, though we're not sure what it is. For what it's worth, Volvo's top designer says he actually redesigned the whole rear of the car in response to the positive feedback they got after the two-door concept hit the stage.
Though the rear of the S90 and the rear of that concept look alike much in the same way that Don Rickles and Natalie Portman look alike – the same basic features are there, but one just happens to make jokes about hockey pucks, and the other, well, doesn't.
Either way, since this is a Swedish luxury car that will be up against the best of Audi, Audi, Audi, Audi, BMW, Mercedes-Benz, Jaguar, Lexus, Infiniti, Acura, and BMW one more time, I guess it's even more important to see what's it like on the inside.
If you fell in love with the XC90's cabin, the S90 will keep fueling those warm feelings. The S90 gives you a welcoming cocktail consisting of natural finish wood and fine leathers all around, probably the most comfortable and safest seats in the industry, a high-end Bower and Wilkins sound system, a digital dash, air blades straight off the concept car and the Sensus Connect's large touchscreen getting rid of most buttons for a smooth finish. I wish my flat was this nice.
We know that the XC90 T6 drives pretty well for an SUV, but the S90 will have to have even more sportsing dynamastimism, paired with even more comfort, to be competitive as a sedan. R&D chief Dr Peter Mertens says they have "completely redesigned the Volvo driving experience from the ground up to deliver a sense of precision, engaging control and comfort," but I bet there's some space left for an R-Design and (hopefully) a full-on Polestar version as well.
While we don't know the exact numbers yet, expect the T6 to pack 316 horsepower and (optional) all-wheel drive while the T8 hybrid - which XC90 buyers were promised to get this fall but got delayed by about two month due to Dieselgate - should grant you 407 horses and slightly more pure electric range than the XC90's claimed 20+ miles. There's also going to be a front-wheel drive entry-level car, most likely with the 245 horsepower T5 drivetrain featuring the same eight-speed automatic as the all-wheel drive versions.