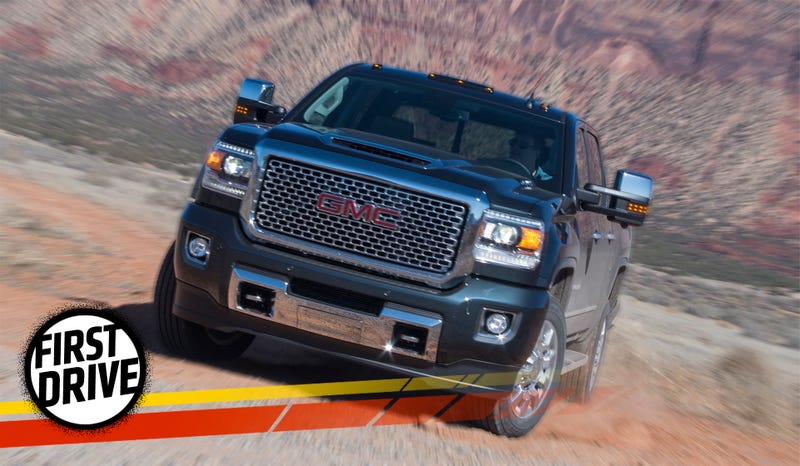 The 2017 GMC Sierra HD really only gets one fresh feature, but it's a biggie. The truck's new 6.6-liter Duramax turbo diesel V8 has a massive claimed output of 445 horsepower and 910 lb-ft of torque. It feels good to drive, too. But this truck's real value proposition isn't under the hood, it's in the details.

GMC is the auto industry's grandest and possibly most successful experiment in brand engineering. GMC trucks are virtually mechanically identical to Chevrolets. Chevy's Colorado becomes the GMC Canyon, the Silverado becomes the Sierra and similar redecorations are applied between the two brands' SUVs, crossovers and cargo vans. The main differences are aesthetics, and also marketing.
It kills me to take a word from the company's own tagline, but GMC trucks are designed to feel more "professional." The look is essentially achieved with simple exterior lines and high-quality interior surfaces. And it totally works.

If the Sierra Denali looked any more the business it'd sit you down in front of a PowerPoint deck and talk your ear off about synergy.
"A GMC customer holds themselves and others to a high standard," a representative from the company explained with, actually, a PowerPoint presentation. I think we were supposed to imagine that a GMC guy would spend his weekend drawing up plans for a new shed, carefully selecting each piece of repurposed farmhouse wood to build it with, then measuring twice and cutting once, whereas I guess a Chevy guy would pick up some particle board from Home Depot and end up getting too blasted on Yuengling to be allowed near a saw by Sunday afternoon.
So does this concept manifest itself in the actual drive experience? It does, in subtle strength, and really nice haptic feedback from pretty much everything you can put your hands on.
What Is It? 
The GMC Sierra HD 2500 (three-quarter ton) and 3500 (one-ton) are GM's entrants to the most capable class of pickup trucks available to consumers. Those "weights" I just listed refer to the minimum the trucks are rated to carry in their cargo beds, though the max gets even higher in some configurations.