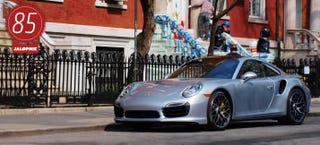 The Porsche 911 is a car for dentists. A car with the engine in the wrong place. A car that has evolved from the Beetle. A car that has never had a new design. A car where precision beats passion. Those all the cliches? Good. The 2014 Porsche 911 Turbo S is terrifyingly fast and I have no time left for cliches.
(Full Disclosure: Porsche let us take the new 911 Turbo S for a full week. Matt drove it to DC. I did launch control in the car with my dad and he laughed harder than I've heard in a while. Who says Porsches are joyless? Ok, I promise, that was the last cliche.)
What started as a 911 with just a bit more power has now become a simply manic acceleration machine. To give you some perspective, this car gets to 60 MPH 0.1 seconds slower than a Bugatti Veyron. Here's your reminder that the Veyron can cost upwards of $2 million, gets to 60 in 2.5 seconds, and is one of the fastest cars the Earth has ever seen.
The 911 Turbo S costs 1/10th of that $2 million and gives it a run for its money. That's unreal. Come to think of it, the Turbo S is literally 1/2 the car of the Veyron for 1/10th of the money. It has 560 horsepower and 3.8 liters of displacement from the engine. The Veyron has at least 1,000 horsepower and eight liters of displacement. And at 4,100 pounds, the Veyron weighs about 600 pounds more than the Turbo S. That means that the Turbo is just that much more efficient at deploying it's power to match the Veyron.
Porsche offers the Turbo in two flavors: Turbo and Turbo S. In the past, a 911 Turbo S was a limited run version of the turbo that came at the end of the model cycle. It would be lighter, better optioned, and more powerful. Now, the 911 Turbo S is more a performance pack for the Turbo. The $31,000 price difference between the 911 Turbo and Turbo S gets you every performance option available on the Turbo (center lock wheels, carbon brakes, sport chrono, PDCC, and more) plus an extra 40 horsepower. It's actually, and this is rare in Porsche land, a deal.
The Turbo is not a Turbo Shitty, as some around here posit. The Turbo is a Turbo and the Turbo S is the Turbo Holy Hell They Made It Faster How Is That Even Possible?