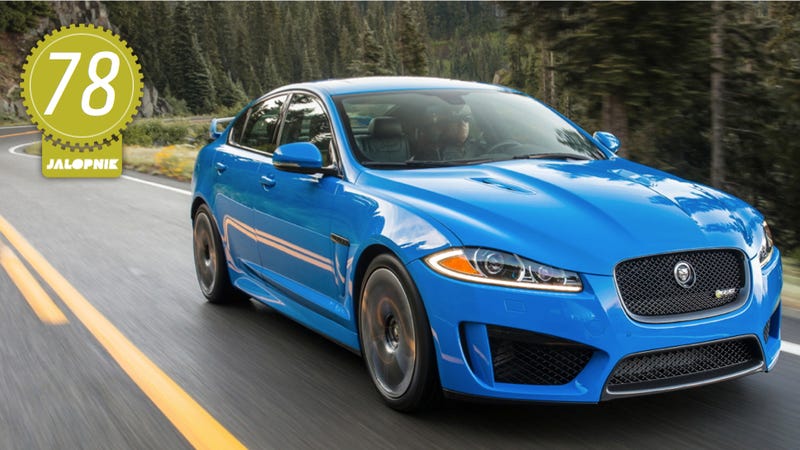 Jaguar's one-upped its already elegant and well-sorted XFR sports sedan, to create the sharper, more aggressive and very limited-production Jaguar XFR-S. But does the S stand for aweSome, or just window dreSsing? We found out.
(Full disclosure: Jaguar wanted us to drive the XFR-S so bad, they flew me to Seattle for a long, winding stint in both the XFR-S and XJR (more to come on that), which included a few laps at The Ridge Motorsports Park, a technical private track in Shelton, Washington, and a lift back to Seattle on a De Havilland DHC-3 Otter seaplane. No wheels, good.)
When you've got a good chassis, there's a moral obligation to keep adding power until you wring maximum enjoyment from it. If we were a truly enlightened civilization, we'd make this a law, and insist on the inverse as well: A gorgeous engine demands a chassis well-sorted enough for its every rev to be explored fully. Combine both maxims into an engineering brief, and you've got the recipe for a very special car.
The Jaguar XFR-S is cut from that brief. It matches Jaguar's sublime supercharged five-liter V8 with the XF's sturdy and communicative running gear, which has been recast to slay corners. The combination of those two components — engine and chassis — is a reboot of the old chocolate and peanut-butter thing, but in the case of the XFR-S, also infused with Cumari peppers. They're spicy, see, but they won't burn your eyelids off if you're lax in handling them.
Put simply, the XFR-S is quick, it wraps itself around an apex predictably, it tops its class in steering feel and assuredness, and it never met a corner — fast or slow — it didn't dig its fangs into and devour. It's also got a clean design that, while familiar, is anything but awkward, and at some angles a real, old school charmer.
Could it feel a bit more special? Well, perhaps. But we'll get to that.
Positioning-wise, the XFR-S is the latest product to wear Jaguar's R-S badge, which denotes the highest road performance profile within the company's line. First came the XKR-S, for which engineers took Jag's GT car and gave it the agility of a peregrine falcon. Now they've done the same with their midsized XF, a luxury sedan that — both in base form and as the hotted-up XFR — has earned major points within its very competitive class for ride, handling and steering feel.
Could the XFR-S sound more feral? Could it feel even more hyper alert? Yes. That would be my preference, though Jaguar is undoubtedly leaving room between R-S models and the even more severe GTs, the first (and currently only) of which — the XKR-S GT — showed up at the New York Auto Show this past year.