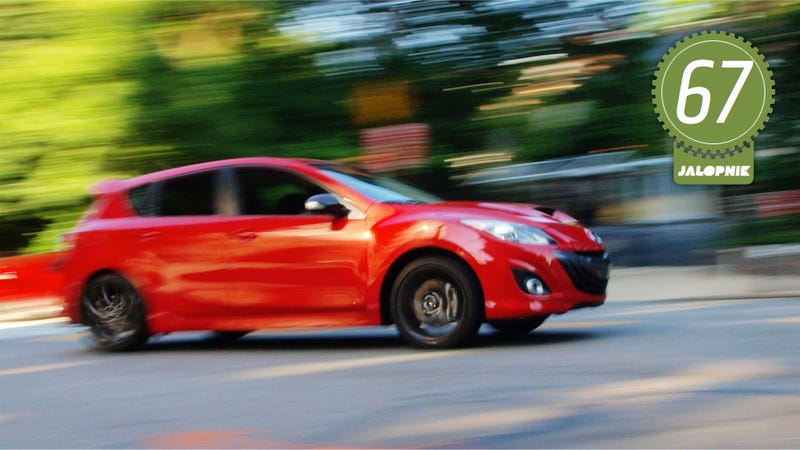 If the Mazda3 goes to prep-school, then Mazdaspeed3 is the berserk brother trying to knock up the cheerleaders. It's a Mazda3 on MDMA-laced protein shakes. A mad-science experiment to tame 263 horsepower through the front wheels. And I'll be damned if it isn't fun.
(Full Disclosure: Mazda wanted me to drive the Mazdaspeed3 so bad that they let me have it for a week. I drove it over to surprise my Dad for Father's Day. Happy Father's Day Dad! I should also note that I own a Mazda Miata. That's not for this review, I just like to tell people.)
Mazda does a lot of things right. In a world of boring, dreary econoboxes, the Mazda3 is actually fun to drive. But it isn't the funnest Mazda3. That goes to the superman Mazdaspeed3, a car that has 263 horsepower and actively tries to kill the person driving it through that weapon known as torquesteer.
People think of the Miata as the fastest car in the Mazda portfolio, but under most conditions you're going to be faster in the hatchback with the crazy smile. The 'Speed3 crams more power and premium features within than any of its competitors, and even has some very premium tech like blind spot monitoring and auto wipers.
It it basically the anti-Miata: An overpowered front drive hot hatch with five seats and tech up the ying yang. The opposite of Jinba Ittai. The Miata is the religion by which I live, so it's hard for me to believe that Mazda could build something so far out of its comfort zone and be good at it.
I've never driven a Mazda that I didn't like, so the Mazdaspeed3 has a lot to live up to.
Exterior: 7/10
Nobody can accuse the Mazdaspeed3 of not having character. It's one of the happiest cars on the road with its big stupid grin. Some people like it, some people hate it. I tend to fall in the former group. I like it, it makes me smile.
Speaking of the smile, you haters (I know you're out there) should rejoice, because it'll be gone for 2014.
I also think it's very handsome from a lot of angles, definitely one of the most muscular hot hatches on the road today even if the cartoonish hood scoop appears to be trying too hard, kind of shouting "I really am fast you know!"
I also really like the wheels, which aren't too big, the rear wing, which isn't too big, and the other subtle body mods that differentiate it from the base 3. It is definitely one of the more polarizing designs out there. We need more polarizing designs, though, so I consider the 3 a success.
Interior: 6/10
A little hot hatch isn't necessarily about the interior. It's about driving. So it's no surprise that the things you will touch a lot, like the wheel and the shifter, feel great. I also liked the seats. I spent a couple long stretches in the car and my hip/back didn't feel like I just got off a bucking bronco.
Here's another thing I liked that doesn't get enough attention: With the windows down, there wasn't an awful amount of annoying buffeting or noise at highway speeds like in a number of other cars. I guess Mazda knows how to do this properly thanks to the Miata.
Here's the rub. Other than those points, this interior isn't all that, how do you say... good. Materials feel cheap, the door is covered in this strange red and black cloth, and it doesn't feel all that special. Sitting in the 2014 Mazda3 hasn't helped this one at all either. It feels out of date and out of touch, like me at a Kanye concert.