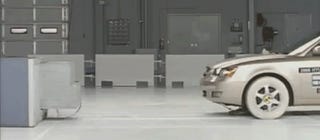 These days it seems like every time a carmaker makes the slightest mistake, there's a recall. We've had recalls over floor mats, just as an example. What's the worst you've ever been through, though?
Reader DCMC told us about a time he took in some old Hyundais for a recall, while we were discussing current problems with Sonatas built between 2006-08.
I worked at Hyundai as a technician for a couple of months and had to deal with their existing corrosion recall on their subframes and front lower control arms on the Sonata, Elantra, and Tiburon as well as the rear trailing arms on the Santa Fes. I still remember the one day a customer's Elantra was towed right into the shop before the recall was issued. Front left lower control arms (stamped and welded) snapped right in half at the bend. What a mess.
I've never had to take my car in for a recall, given that VW is about to announce any production problems on a 1973 Beetle. If they did, I'm not sure the dealer would know what to do with my car anyway.
What about you? What's the sketchiest problem you've ever gone through a recall over?
Photo Credit: Insurance Institute for Highway Safety (Crash test of 2006 Hyundai Sonata show)