The Cadillac ATS is probably the best small sport sedan America has ever made. That's why I, like most Jalops, would love to see it get the chance to become the best small sport wagon America has ever made. Here's what has to happen first.
We know Cadillac is at least considering a sport wagon variant of the ATS, as well as a convertible version of that stylish coupe. But the ultra-useful and ultra-hoonable wagon version is what I really want.
So at the Washington Auto Show this week, I asked Cadillac marketing director Jim Vurpillat what it would take for that to happen.
G/O Media may get a commission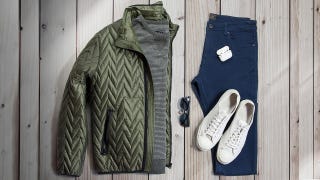 60% off
Jachs NY Fall Sale 60% Off
"If the number of auto journalists in America expands by 400 percent," he said, then it's probably more likely. (He may have been joking, you guys.)
Even then, those auto journalists are going to actually have to buy cars instead of bitch and moan about them on the Internet. Think we can do that?
Seriously though, it's a tough case to make. Vurpillat told me that in the U.S., fewer than 11,000 luxury wagons are moved each year. It's a very small market, and while it's traditionally much stronger in Europe, their stunted economy hasn't been very good for new car sales.
But never say never. Vurpillat said he loved the old CTS-V wagon for being a "great sleeper," so I have a feeling the people at Caddy would do it if they can make a case for it. At the very least we have an ATS-V to look forward to, even if they're being super tight-lipped about that.
"Announcements will happen," Vurpillat said with an air of mystery in his voice. I sure hope one of those "announcements" will be an ATS-V Wagon someday.
In the meantime, everyone start submitting your resumes to Car and Driver.