This is The Morning Shift, our one-stop daily roundup of all the auto news that's actually important — all in one place at 9:30 AM. Or, you could spend all day waiting for other sites to parse it out to you one story at a time. Isn't your time more important?
1st Gear: Please, Please, Please
I'm a fan of the Cadillac ATS, but I was generally unmoved by the Cadillac ATS Coupe. It's a nice little coupe, if not a little bland, but that's not my favorite segment. The same goes for a convertible version, which they've planned.
G/O Media may get a commission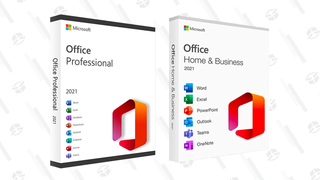 89% off
Microsoft Office Professional 2021 Lifetime License
A Cadillac ATS-V with a twin-turbo V6 is more my speed, but even then that only gets me so far.
What I'm truly fascinated by is a passage in this Automotive News article:
Ferguson said General Motors is "absolutely" planning at least one variant beyond the coupe that debuted at the auto show here last week and a V series high-performance model, which Cadillac is expected to unveil sometime this year. He said a convertible and a wagon are being considered.
Yes. Yes. Yes. Yes. Yes.
2nd Gear: Where Are The Chinese?
No one was more disappointed at the lack of Chinese automakers than your humble Jalopnik writers, both because we genuinely love seeing alternative solutions to transportations challenges and because they sometimes do insane shit.
There are a lot of reasons why, as Karl Henkel thoughtfully notes here, but this is the most persuasive to me:
The Chinese auto market, the world's biggest, is growing at such an exponential rate that automakers can hardly keep up with demand. Chinese automakers would have to establish a dealer network, and the U.S. market is already heavily saturated with American, German, Korean and Japanese automakers.

"Unlike the situation with the Japanese, in which maybe a handful of manufacturers came over in the '80s, the Chinese market is very fragmented," said Mark Heusel, an attorney at Dickinson Wright, who works with Chinese firms looking to relocate or set up operations in the U.S.
I still think it's a matter of "when," not "if."
3rd Gear: A Lot Of You Went To The Detroit Auto Show
If attendance is a measure of a successful show, props to Detroit for attractive more than 208,000 in the first two days, beating the total for 2013 according to a spokesperson.
How much are they paying?
Ticket prices are $13 for adults; $7 for seniors age 65 and older; $7 for children ages 7-12; and children ages 6 and under are free when accompanied by a parent or guardian.
4th Gear: Mercedes Has High Hopes For The GLA
Given the obvious success of the Mercedes CLA and America's never-ending thirst for hatchbacks with a slightly raised height — i.e. a crossover — is it foolish for Mercedes to think the GLA might even be more successful?
Probably not, but it all depends not the price, which we don't yet have as Automotive News points out.
The CLA starts at $30,825 with shipping. The GLA is expected to be priced higher, but still several thousand dollars less than the GLK.
Placed in the mid-to-low $30s it's probably a good bet they'll move a ton of them.
5th Gear: Luxury Automakers Make To Make Luxury Autos
There's something hilarious about this WSJ article about the "dizzying array" of models produces by luxury brands.
Truly, as they point out, there are now a lot more models at brands like BMW than there were in the past.
So many that "BMW is advising dealers to remove sales cubicles to make more room for cars. The company also wants to use flat-screen displays to help customers understand the dizzying array of choices. BMW is looking to set up centralized fleets so shoppers can test-drive them all. The idea: dealers won't have to stock each version."
BMW makes so many models its dealers can't show them all.
I guess we'll see how well that works out.
Reverse: And 100 Years Later It Was Dead
On January 20, 1909, newly formed automaker General Motors (GM) buys into the Oakland Motor Car Corporation, which later becomes GM's long-running Pontiac division.
[HISTORY]
Neutral: Will An ATS Wagon Do Better Than A CTS Wagon? Or should they just build both to be safe?
Photo Credit: Getty Images