I remember when a zero to 60 mph time of around 2.5 seconds seemed as quick as humanly possible. But then electric vehicles with their instant torque came along and began showing off their blisteringly quick acceleration. Now, an EV has managed to accelerate up to 62 mph in under a second.

2024 Nissan Z NISMO | Jalopnik Reviews
The car in question is a single-seat racer developed by students at the ETH Zürich university and the Lucerne University of Applied Sciences and Arts in Switzerland. Called Mayhem, the car comprises components that were all developed by students at the two institutions.
The chassis and bodywork are made from a combination of carbon fiber and aluminum honeycomb, meaning it weighs just 309 pounds. Under all those panels is a set of four wheel-hub motors, which were developed by the students themselves. In total, these kick out an impressive 326 hp.
All this means that the car accelerates fast. Really fast. In its record-breaking run, Mayhem accelerated from zero to 62 mph in just 0.956 seconds. With driver Kate Maggetti at the wheel, the car managed this feat over a distance of just 12.3 meters, which is about 40 feet.
If you can't quite wrap your head around what that acceleration is like, there's a video of the record breaking run available to watch above. But for some context, this rapid acceleration is faster than a Formula 1 car, which manages the feat in about 2.6 seconds, and NASA's space shuttle, which took a leisurely five seconds to reach 60 mph.
In a video of the record attempt shared by the university, Maggetti said that you "really notice that your heart is pounding away" in the buildup to the attempt. But, she added that once you "see it through," it's like "being on a rollercoaster with a really, really fast start."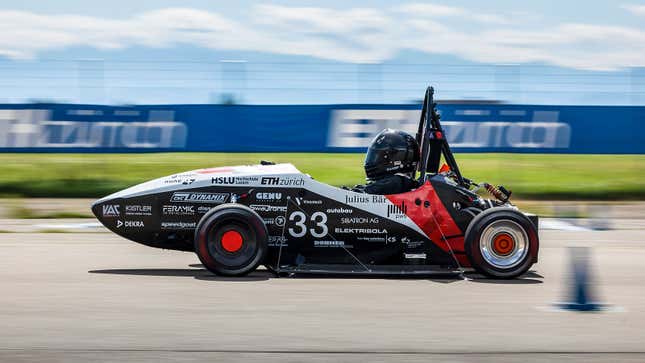 The speedy run from the ETH Zürich beat the old acceleration record by more than a third. In September 2022, a team from the University of Stuttgart set the acceleration benchmark at 1.461 seconds. Now, the ETH Zürich will take some beating.